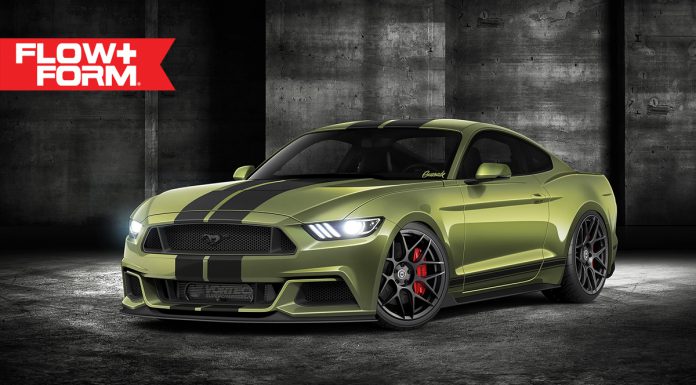 While we eagerly await the release of the 2016 Ford Mustang GT350, Gurnade has created the following awesome rendering of how the potential new Mustang GT350 could look with some matte black HRE wheels!
The vehicle rendered is finished in an almost military shade of dark green and includes black racing stripes, red Brembo brake calipers, a more aggressive front bumper than the existing Mustang as well as lowered suspension and modified side skirts.
For the real thing, it recently emerged that the Mustang GT350 may be powered by a new 5.2-litre V8 engine. The information surfaced after it was discovered a Mustang variant with a 5.2-litre engine was listed for replacement brake master cylinders and interior quarter panels. This is interesting because the 2015 Mustang GT is currently only available with a 2.3-litre EcoBoost, a 3.7-litre V6 and a 5.0-litre V8. The new 5.2-litre is reportedly codenamed Voodoo.
Visually, 2016 Mustang GT350 prototypes have been spotted with revised and more aggressive front bumpers and splitters, new wheels as well as Recaro sports seats. Also, there have been large quad-exhaust pipes, a new rear diffuser and carbon ceramic brakes present.
The current Mustang GT delivers 435 hp and 400 lb-ft of torque from its 5.0-litre V8. However, when the Mustang GT350 hits the market, we expect it to produce significantly more while also weighing less.