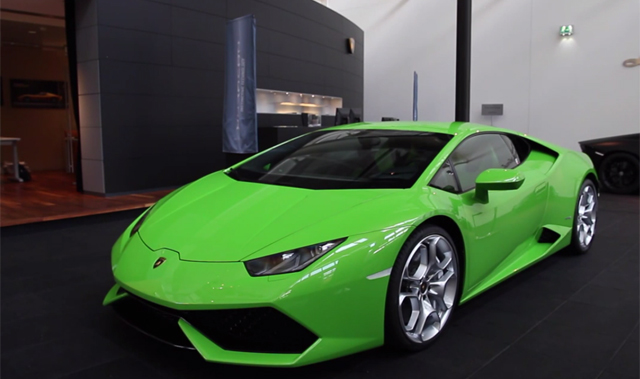 Having had the chance to drive the brand new 2015 Lamborghini Huracan, we know just how impressive the latest Italian supercar is. At the recent introduction of the Huracan at a Dutch Lamborghini dealership in Leusden, Automotive Mike on YouTube had the chance to go on-board a Huracan in a stunning line-up of four of the new supercars!
[youtube]https://www.youtube.com/watch?v=ZU3vqeqLiUY#t=218[/youtube]
Beneath the skin, the Lamborghini Huracan features an uprated 5.2-litre V10 engine delivering 602 hp at 8250 rpm and 413 lb-ft of torque at 6500 rpm. Beyond the engine, a new transmission is featured. Dubbed the Lamborghini Doppia Frizione, this new transmission provides seamless gear changes without interrupting torque. One of the most interesting features allows the driver to hold down the left paddle shifter while braking. The Huracan will then automatically select the most appropriate gear to rocket the car out of the corner as fast as possible.