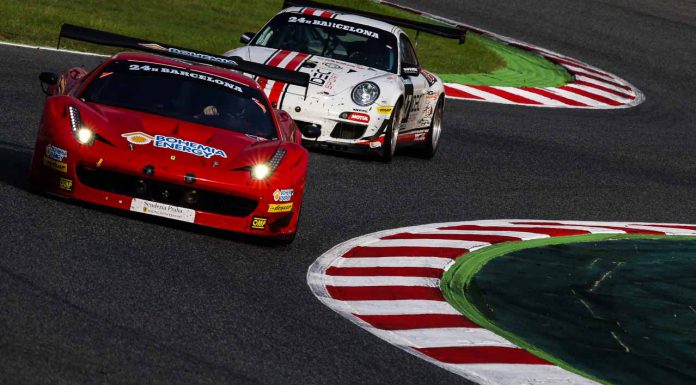 Ferrari pocketed a series of wins at the recently held 24 Hours of Barcelona at the Catalunya Circuit in a race which they completely dominated without a hitch. The Scuderia Praha team comprising of Písarík, Jirík, Malucelli and Kox won the race in the No.4 Ferrari 458 GT3 leading nineteen straight hours. They set the fastest lap and had started from pole position after qualifying first. The team did not experience any mechanical problems, a very rare situation in a 24 hour race.
Making it 1-2 for Ferrari was Kessel Racing with the No.32 Ferrari 458 GT3 piloted by Sicart, Cadei, Piccini, Delpit and Enjalbert. Mercedes-Benz took the third place on the podium with the Hofor Racing owned Mercedes-Benz SLS AMG GT3. Car Collection Motorsport Mercedes-Benz SLS AMG GT3 finished fourth while Walkenhorst Motorsport BMW Z4 GT3 which had led the race late on Saturday rounded off the top five finishes in fifth.
Italian Nova Race claimed a 1-2 finish in the SP3 class as they impressed with a position six overall with their No.16 Ginetta G50 GT4. Their sister car finished second in the SP3 class.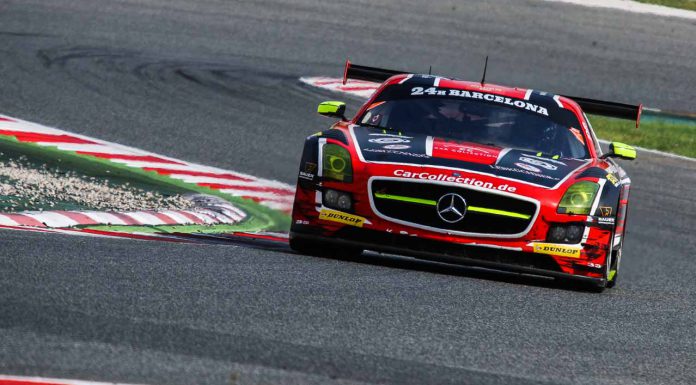 Results Highlights:
Class A6
1. #4 Scuderia Praha
PÍSARÍK / JIRÍK / MALUCELLI / KOX
Ferrari 458 GT3, 653 laps
2. #32 Kessel Racing
SICART / CADEI / PICCINI / DELPIT / ENJALBERT
Ferrari 458 GT3, 646 laps
3. #1 Hofor-Racing
KROLL / EGGIMANN / HEYER / FRANKENHOUT / KROLL
Mercedes SLS AMG GT3, 641 laps
997
1. #17 Ruffier Racing
LAFARGUE / LAFARGUE / ABGERGEL / RACINET
Porsche 997 GT3, 605 laps
2. #9 Team Werner Sport
WERNER / ENGEL / FEUCHT / HUDELMAIER
Porsche 997 GT3 Cup, 581 laps
3. #8 ZaWotec Racing
UCKERMANN / DAUM / SCHREIER / KLEIN
Porsche 997 GT3 Cup, 551 laps
Photography by Jurek Biegus.