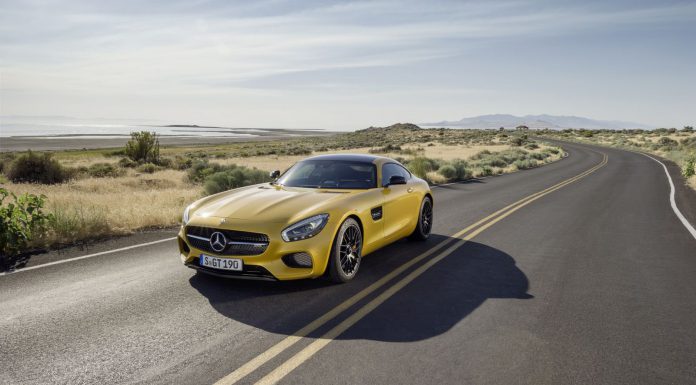 Just after its debut, the virtual reveal of the 2015 Mercedes-AMG GT has taken place through the following promo video for the upcoming Playstation 4 game, Driveclub.
The game is set to launch next month and not long after, the 2015 Mercedes-AMG GT will be available through a free download. Mercedes-Benz and the game's developers, Evolution Studios, worked in partnership to ensure the car is extremely accurate in the game.
[youtube]https://www.youtube.com/watch?v=m2MLhwhelkI[/youtube]
Discussing the collaboration, head of marketing and communications at Mercedes-Benz, Dr. Hens Thiemer said, "We're delighted that Mercedes-Benz is so strongly represented in DRIVECLUB. This proves the brand's attraction and importance, because only the world's most exciting and prestigious sports cars are selected by the game developers."
In case you didn't already know, the GT is the second sports car developed entirely in-house by Mercedes-AMG (the SLS AMG being the first). It gets a front mid-engine layout. The engine of choice is a newly developed AMG 4.0-litre V8 biturbo unit with 462 hp in GT specification. A GT S model will also be available producing 510 hp. The engine meets the Euro 6 emissions standard, including the maximum particulate emissions level that takes effect in 2016.
Zero to 100 km/h is possible in 3.8 seconds with a top speed of 310 km/h. The V8 is particularly ground breaking for its use of dry sump lubrication and its integrally mounted turbochargers. The transmission is a seven-speed dual clutch unit fettled by AMG engineers.
The suspension system includes a double-wishbone at the front and rear. Wishbones, steering knuckles and hub carriers on the front and rear axle are manufactured entirely out of forged aluminium in order to reduce the unsprung masses. The Mercedes-AMG GT S also gets electronically controlled damping as standard with this feature an optional extra on the GT. Three stages are available: "Comfort", "Sport" and "Sport plus".
The headlights are LED High Performance units with stylised "eyebrows" as daytime running lamps, side lights and indicators, as well as three separate high-beam reflectors. The front splitter is painted in the body colour on the GT, but comes with a high-gloss black finish on the GT S.