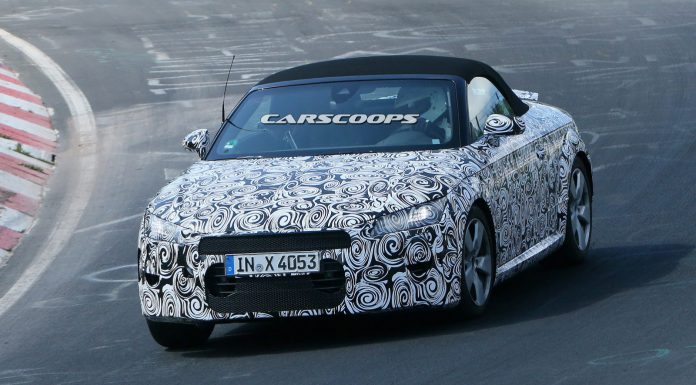 The 2015 Audi TT Roadster has been confirmed for a debut at the upcoming Paris Motor Show 2014 next month.
While speaking at the launch of the third-generation Audi TT, Audi's head of interior design Artur Deponte confirmed the news saying, "The TT has always had its brother, its relation in the roadster and it will debut in Paris."
After it debuts in Paris, the 2015 Audi TT Roadster is expected to hit the market in the closing months of the year.
From a visual standpoint, recent spyshots of a new TT Roadster testing at the Nurburgring reveal that the new car will feature a soft, fabric top and will see the inclusion of two new prominent rollover scoops. With the exception of the additional bracing for the drop-top, expect the TT Roadster to be mechanically identical to the standard car.
Consequently, it will be available with the base TT's diesel 2.0-litre turbocharged engine delivering 181 hp and 280 lb-ft of torque, the base petrol 2.0-litre with 227 and 273 lb-ft of torque on tap and finally, the TTS Roadster should utilise the same 2.0-litre TFSI engine delivering 310 hp and 380 Nm of torque between 1800 and 5700 rpm as the coupe.