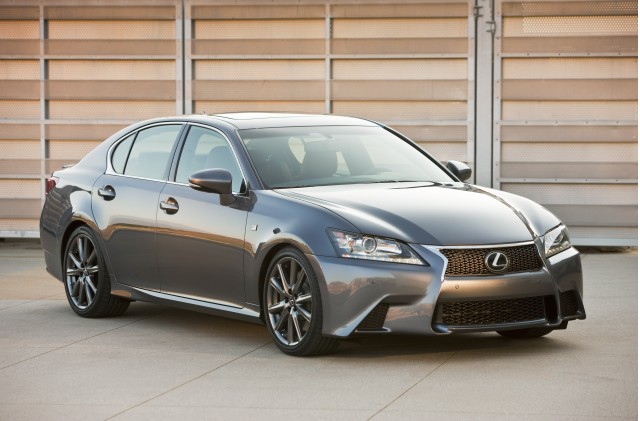 It has emerged that the long-rumoured Lexus GS F will arrive in 2016 with a four-door RC F also set to arrive the same year.
The Lexus GS F has been spied testing on numerous occasions before and will be fitted with a tuned version of the RC F's naturally aspirated 5.0-litre V8. Autocar believes that Lexus engineers will lift power into the 500 hp region with torque likely to sit around 400 lb-ft. Consequently, the BMW M5 and Mercedes-Benz E63 AMG rival should hit 100 km/h in around 4.5 seconds as well as a top speed exceeding 270 km/h.
Underpinning the 2016 Lexus GS F will be a similar rear-wheel drive chassis to the RC F but it will be changed to suit the larger overall size of the GS F. It is also expected to be available with four different driving modes which adjust many of the aspects of the performance-oriented luxury car including the throttle, transmission and rear differential.
Lexus GS F prototypes have been spied testing with special sports wheels as well as a quad exhaust pipe setup similar to the RC F and the IS F. When the car does reach the market, it should cost around 80,000 pounds.
As for the Lexus RC F sedan, it will also arrive in 2016 and act as a replacement to the IS F and a direct rival to the latest BMW M3 and upcoming Mercedes-Benz C63 AMG. It will cost slightly less than the RC F Coupe but will remain almost mechanically identical apart from likely weighing a little bit more due to its extra size.
Beyond the 2016 Lexus GS F and Lexus RC F Sedan, an RC F convertible is also said to be on the cards and will ensure Lexus has a rival for all existing M3 and M4 variants. BMW is also planning an M4 Gran Coupe however, so it will be interesting to see if Lexus follows suit with that as well.
[Via Autocar]