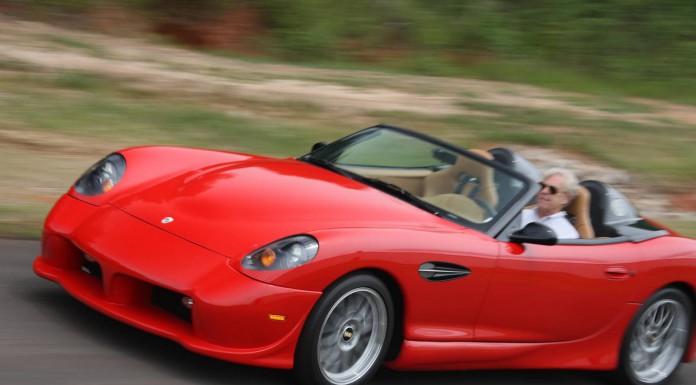 After being previewed at Monterey Car Week 2014, the 2015 Panoz Esperante Spyder 25th Anniversary Edition has officially been revealed. Available both in Spyder and Spyder GT models, the special edition Esperante has been created to celebrate the 25th anniversary of American automaker and racing outfit Panoz.
"When it came to painting a new interpretation of the Esperante, it was very important to not abandon our origins and recognize that an Esperante must look like an Esperante," said Panoz LLC President and COO Bill Orr. "At the same time, we knew we needed to deliver the performance and features that Panoz sports car aficionados and fans of performance expect in the 21st century."
Panoz is planning to create just 25 examples of the Esperante Spyder and Spyder GT 25th Anniversary Edition models with production being limited to select customers. Panoz wants the model to be America's most exclusive custom sports car.
Because the car is so customisable, a selection of different engines are available. The entry-level naturally aspirated V8 featuring an all-aluminium block and aluminium heads has been tuned to deliver 430 hp. By comparison, the range-topping supercharged V8 pumps out 560 hp. Both of these engines are mated to six-speed Tremec T56 Magnum manual transmissions with a six-speed auto complete with paddle shifters available as an option. If the customer wants even more power, Panoz can create 800hp+ engines.
In top-spec, Panoz quotes a 0-100 km/h sprint time of 3.9 seconds as well as a top speed of 276 km/h. The quarter mile is covered in 12.5 seconds. Braking of the car is also impressive with the Esperate Spyder and Spyder GT coming to a stop from 96 km/h in just 112 feet.
The Spyder has a new, shorter windshield reinforced by the aforementioned tubular steel A-pillars with an all-new carbon fibre windshield frame. The carbon fibre windshield frame is not just high-tech window dressing; it makes extensive use of uni-directional carbon fibre for additional strength and stiffness. Twin high-strength steel roll hoops braced into the rear subframe also help contribute to the vehicle's stiffness and increased structural integrity.
Pricing for the 2015 Panoz Esperante Spyder 25th Anniversary Edition starts from $179,120 while the Spyder GT version starts at $204,750.