New images reportedly showing the production-spec 2015 Honda Civic Type R have emerged online when a pre-production car was spotted in Slovenia.
The car is reportedly being used to shoot the official pictures and videos for the new Civic Type R and immediately, a selection of similarities and differences can be spotted between it and the concept introduced earlier this year.
First and foremost, the 2015 Honda Civic Type R features a brand new rear wing and taillight design than the existing Civic and initial 2015 Type R prototypes. Additionally, the car features an aggressive rear diffuser as well as quad exhaust pipes. All of these features were present on the concept.
However, some rather major changes are also noticeable. First off, it doesn't feature the special LED headlights of the concept nor its outlandish front splitter. Additionally, the widened wheel arches have been scrapped.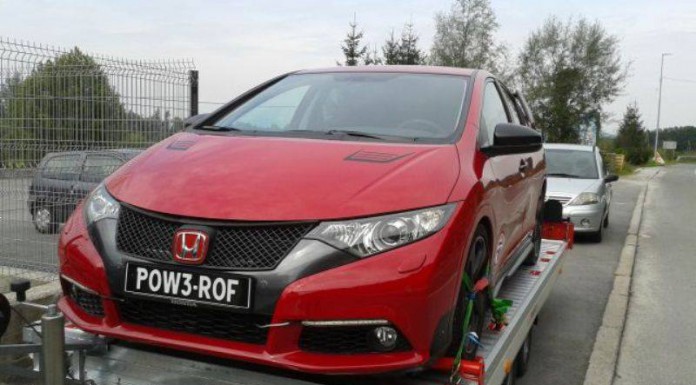 Honda the hood, we know the car will be powered by a 2.0-liter four-cylinder turbocharged VTEC engine which Honda claims produces "over 280PS". As a result of this, Honda is confident the Civic Type R Concept can become the fastest front-wheel drive car around the Nurburgring.
Importantly, 2015 Honda Civic Type R prototypes have been spied testing against the Mercedes-Benz A45 AMG. So while Honda claims it will produce over 280 hp, considering that Honda is benchmarking it against the 355 hp A45 AMG, it is very likely that power will edge above 300 hp!
If you've followed the development of the latest Honda Civic Type R, you'll know that Honda was very open when it came to testing undisguised prototypes. However, the Honda Civic Type R Concept previewed a number of styling traits not present on such prototypes ultimately pointing towards an even more aggressive car than we had ever hoped for.
The 2015 Honda Civic Type R will launch in the summer of 2015. 
[Via Carscoops]