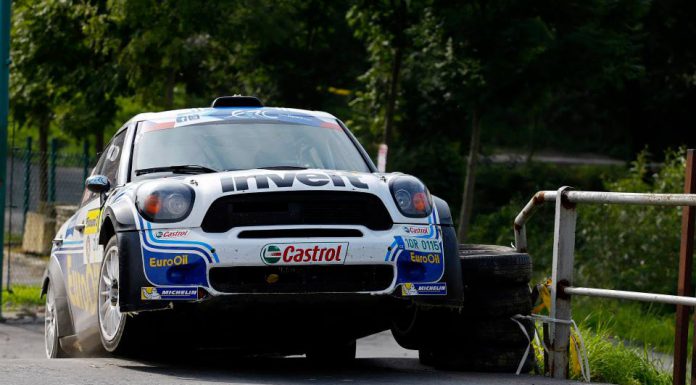 Mini reclaimed back its rallying glory during the Barum Czech Rally Zlín this past weekend in the hands of Václav Pech and co-driver Petr Uhel. The duo broke a long winning streak set by Skoda who had dominated the rally for the last four years. Pech and Uhel admitted to not being sure of the win as there was stiff competition and at one point they lost time after their car broke down. Luckily, other drivers lost time in similar situations allowing Pech and the Mini to claim this much needed victory.
Pech now becomes the seventh different winner in the 2014 ERC calendar, but this was his first win in ERC since 2004. Pech's win means that he is Czech champion for the seventh time. Sepp Wiegand gave Skoda a podium win after he finished second in his Skoda Fabia S2000 finishing 0.2s ahead of Tomáš Kostka who was driving a Ford Fiesta R5. Skoda also used this rally to demonstrate their upcoming Skoda Fabia S2000 that features the new 1.6-litre turbocharged engine. It was driven by reigning European champion Jan Kopecký.
Czech drivers Jaroslav Orsák and Jaromír Tarabus finished in fourth and fifth respectively. Tarabus went off the road at stage seven and therefore lost valuable time, but he made a comeback to finish in fifth. As a result, he was awarded with the Colin McRae ERC Flat Out Trophy. Another Czech driver Martin Březik driving a Mitsubishi Lancer took the win in the Production Car Cup category denying András Hadik the chance in his Subaru Impreza which broke down.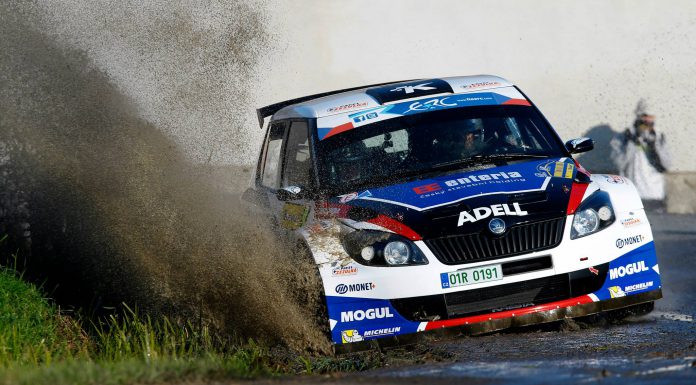 Adam Kobliha won the ERC 2WD Championship while Stéphane Lefebvre took the win in the ERC Junior Championship. Esapekka Lappi still leads the standings with 123 points. He had crashed on Saturday but restarted on leg two where he won three stages to gain five bonus points. Sepp Wiegand is second in the standings with 104 points while Craig Breen is third with 70 points. The next round will be the Cyprus Rally on 19th September.
Top 10 Results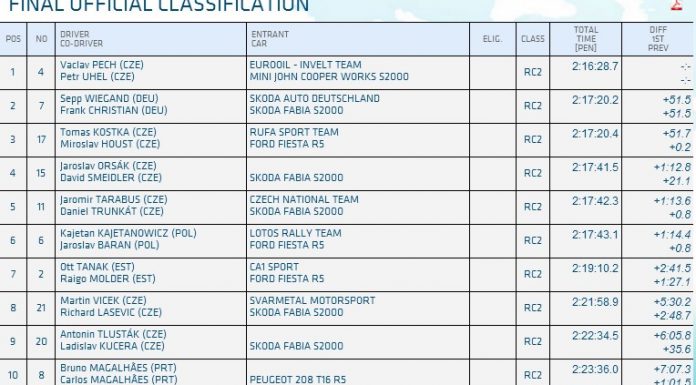 Video Highlights
[youtube]http://www.youtube.com/watch?v=GqX_IuzGbaQ[/youtube]
Quotes:
Václav Pech: "The completion was really great so we didn't have high hopes for the best positions and we were realistic about our chances of being in the top three. In the beginning we had some engine problems in Slušovice. My greatest fear was to get to the service. Even though they were quite simple we could not do them on the road. But after the repairs everything was going okay and we were able to fight for the best positions. We quickly got to the top but it was also thanks to the mishaps and misfortunes of our competitors. When we had a one-minute advantage we just didn't want to make any mistakes and unnecessary damage to the car. The special stages were really bumpy and quite damaged. We wanted to get to the finish and everything went well for us."
Sepp Wiegand: "Before the rally I knew the rally is really difficult. The roads are really challenging and I also saw the entry list for this rally with really good drivers here. Before the start, to be honest, I don't expect to finish on the second place but with second place I am really, really happy especially on the last stage when we won by 0.2s in front of Tomáš Kostka. It was a surprise after a difficult rally for us but we did no mistake. For sure the favourites having problems helped but this is part of the rally and we did a clever rally with no mistakes. I'm really happy to finish in the second place on this difficult rally."
Tomáš Kostka: "I know Barum Rally is very famous and a great rally for us but we didn't hope for a great position. We took part in this rally with support from Rufa Sport. I know the roads in this region and that gives me the first advantage. Also the favourites dropping out gives us another advantage. We had some technical problems as did the other crews but we managed to get to the finish and I am really satisfied with the result."