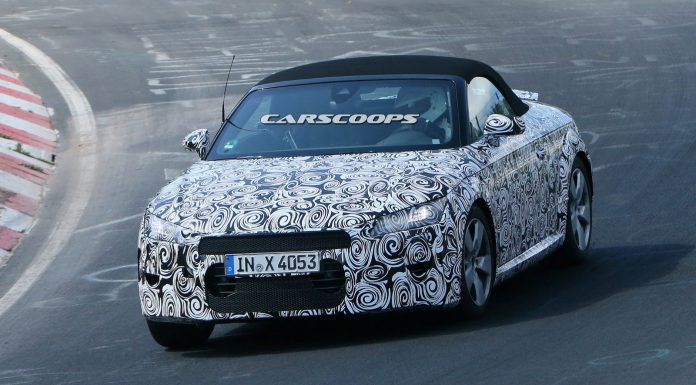 The upcoming 2015 Audi TT Roadster has been filmed tackling the Nurburgring for the very first time about six months after its coupe sibling debuted at Geneva.
It is understood that the 2015 Audi TT Roadster will be unveiled at the Paris Motor Show 2014 this coming October before going on sale in the closing months of the year. As you would imagine, we expect the exact same range of versions to be available in Roadster specification as they are the coupe.
From a visual standpoint, this spy shot reveals that the 2015 Audi TT Roadster will feature a soft, fabric top and will see the inclusion of two new prominent rollover scoops. With the exception of the additional bracing for the drop-top, expect the TT Roadster to be mechanically identical to the standard car.
Consequently, it will be available with the base TT's diesel 2.0-litre turbocharged engine delivering 181 hp and 280 lb-ft of torque, the base petrol 2.0-litre with 227 and 273 lb-ft of torque on tap and finally, the TTS Roadster should utilise the same 2.0-litre TFSI engine delivering 310 hp and 380 Nm of torque between 1800 and 5700 rpm as the coupe.
Further down the road, we expect more Audi TT variants including a new TT RS and TT RS Plus.
[Via Carscoops]