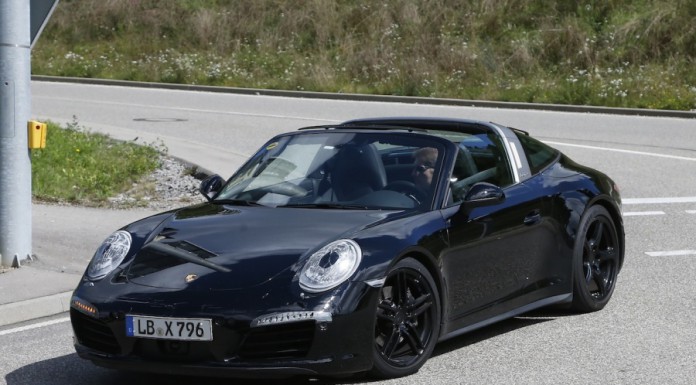 The 2014 Porsche 911 Targa was only just introduced at the Detroit Auto Show 2014 in January and already, a facelifted prototype has been spied testing for the first time.
This particular tester features some light camouflage across the front bumper, LED daytime running lights and the headlights themselves with all of these parts set to be tweaked. One of the most notable additions for the facelifted 911 range will be the inclusion of active air ducts in the front bumper and this particular prototype also seems to be sporting them.
Elsewhere, this facelifted 911 Targa prototype is sporting revised taillights covered in camouflage, new door handles as well as a tweaked rear bumper.
According to the latest reports, the facelifted Porsche 911 range will be introduced at the Los Angeles Auto Show 2014 in November and introduce the 992 generation nomenclature.
As for the still new 2014 Porsche 911 Targa 4 and Targa 4S, it features a characteristic wide bar in place of the B-pillars like the original 911 Targa model. It also gets a movable roof section above the driver and passenger, and a wrap-around rear window with no C-pillar. The difference is that the new model can be opened and closed at the push of a button. When fully lowered, the roof top is towed behind the rear seats. The roof is part soft top, part glass rear window.
The Porsche 991 Targa gets a rear-biased Porsche Traction Management (PTM) all-wheel drive system fitted as standard. As the Porsche 991 Targa is based on the 991 4 and 991 4S, it gets a wide-body look. The two models are both fitted with a seven-speed manual transmission as standard. The Porsche 991 Targa 4 is powered by a 3.4-litre, 350 hp flat-six engine while the Porsche 991 Targa 4S 911 Targa 4S delivers 400 hp from a displacement of 3.8 litres.
[Via Teamspeed]