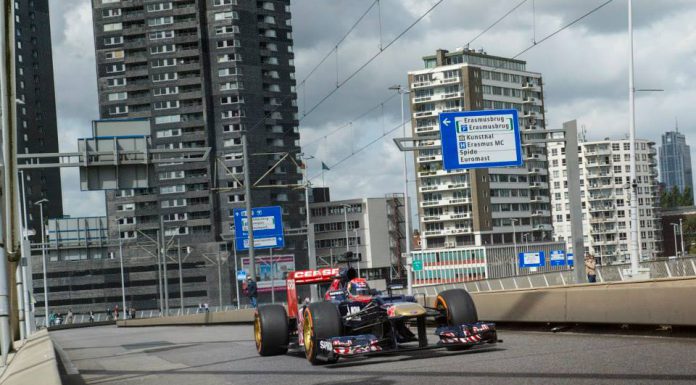 The city of Rotterdam in The Netherlands is hosting Formula 1 live action courtesy of the 2014 VKV City Racing. Scuderia Toro Rosso have used this event to showcase what young Max Verstappen has to offer as the newest member to their team. Verstappen is only 16 years old and he is poised to be the youngest driver to ever join Formula 1. He starts racing officially in the 2015 championship, coming straight from Formula 3. Unfortunately, not everything went to plan as Verstappen crashed the car while trying to do a donut!
[youtube]https://www.youtube.com/watch?v=HYlBeawGn6s[/youtube]
Verstappen has the racing DNA in him as his dad and mom were both racers. His dad, Joe Verstappen is a former F1 driver while his mom Sophie Kumpen is a former Kart racer. By the time he joins Formula 1 next year, he will be 17 years old and will join Daniil Kvyat while Jean-Éric Vergne will be replaced. Sister team to Red Bull Racing which are both owned by Red Bull, this Italian team races the STR9 revealed earlier on this year.