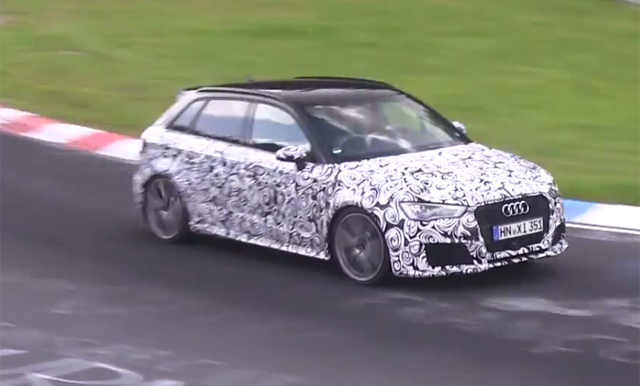 The 2015 Audi RS3 is continuing its strict testing regime at the Nurburgring and was recently filmed hitting the German track at full pace.
Unlike recently examples, this RS3 Sportback prototype features white and black camouflage complete with all the swirls and circles we've come used to from manufacturers. By comparison, previous prototypes have simply worn bodies with essentially no camouflage indicating that this most recent prototype is wearing its production skin which we'll have to wait a see in a little while.
[youtube]https://www.youtube.com/watch?v=jVarHLiNUvA#t=77[/youtube]
Beyond the skin, some noteworthy modifications will be done to the engine. Despite early suggestions that a new four-cylinder engine would be used, the engine note of this prototype suggests that an upgraded version of the current 2.5-litre, TFSI, five-cylinder engine is utilised.
In the previous-generation Audi TT RS Plus, this potent engine delivers 355 hp and 342 lb-ft of torque. As a result, Audi only needs to tweak it slightly and it'll produce a Mercedes-Benz A45 AMG rivalling 360 hp.