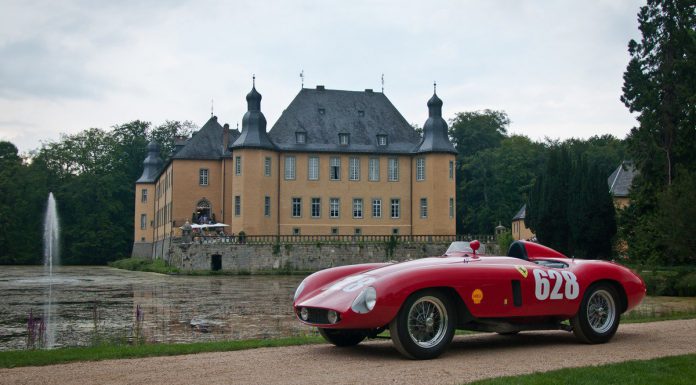 As one of Germany's largest classic car events, the Classic Days at Schloss Dyck are a must-visit for the car enthusiast. Held near Düsseldorf at the beginning of August it featured many historic cars and demonstrations, and also a Concours d'Elegance.
In the garden in front of the 900-year old castle were many historical cars which nowadays fetch millions at auctions. Among the cars presented to the public and jury were a Ferrari 500 Mondial Serie II Scaglietti, Lamborghini 350GT, Maserati A6G 2000 Berlinetta, Mercedes-Benz 540K Special Roadster and Mercedes-Benz 380 K Special Roadster by Erdmann & Rossi.
One of the most remarkable cars was the eccentric Delahaye 135 M Torpedo Cabriolet by Figoni & Falaschi, normally one of the centerpieces of the Mullin Automotive Museum in California. Another eye-catcher was the Mercedes-Benz 500K Streamline Roadster by Erdmann and Rossi, which allegedly once was part of Saddam Hussein's car collection.
Various cars roared their engines and made their laps around the three-kilometer long course, including the DeLorean which starred in the film Back to the Future. Others cars on track include various racing and rally cars, sports cars like the Lamborghini Countach, rare classics like the Porsche 64, and many Mercedes-Benz 300SL Gullwings.
All in all it was a great event and next year's edition of the Classic Days at Schloss Dyck is surely worth visiting if you are interested in great cars and automotive history.