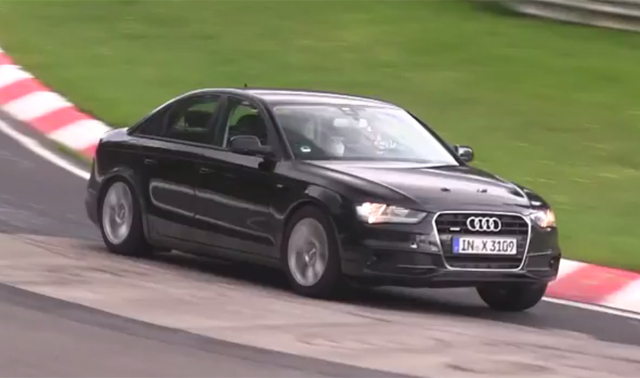 Just after it was photographed testing, the next-generation 2016 Audi A4 has been spied testing at the Nurburgring. The new A4 will have to rival the recently updated BMW 3-Series and Mercedes-Benz C-Class models.
While the following prototype was wearing the same body and interior as the current Audi A4, this prototype is believed to be riding on the second-generation MLB platform. This new platform will be extremely scalable and will weigh significantly less than the current architecture.
[youtube]https://www.youtube.com/watch?v=gN57xGftM8s[/youtube]
One of the most exciting things about the new A4 is that it will be available as a plug-in hybrid for the first time. As we speak, BMW and Mercedes-Benz are both working on hybrid versions of the 3-Series and C-Class. Elsewhere, the current 2.0-litre TFSI engine is likely to be maintained for the next-generation Audi A4. As for the Audi A4 plug-in hybrid, tentative suggestions indicate it could deliver 211 hp with a further 95 hp coming from the electric motor.
Additionally, the 2016 Audi A4 may be available with a small 1.4-litre TSI engine. This powertrain could feature cylinder deactivation technology which could cut two cylinders in as little as 36 milliseconds. Finally, it is believed that the next-generation Audi A4 will adopt a similar TFT display to the latest Audi TT.