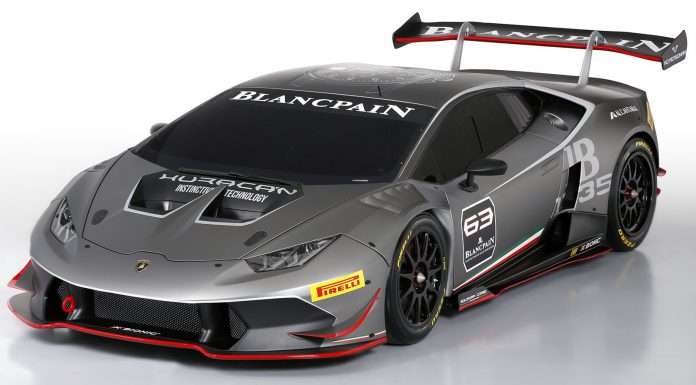 It has emerged that the upcoming Lamborghini Huracan GT3 racer, likely to be revealed in the coming weeks, could race in the TUDOR United SportsCar Championship from as soon as the 2015 racing series.
While recently speaking with Sportscar365 at the Virginia International Raceway, Lamborghini chief test driver Giorgio Sanna confirmed the Italian marque has received customer interest in a GT Daytona variant of the Huracan GT3.
"As everybody knows, the [GTD] regulations are converting to GT3 in 2016 and we're really happy about this as a manufacturer. We have some requests about GT Daytona for next year. So it could be possible you'll see some Huracans in GTD."
The upcoming Lamborghini Huracan GT3 will be the first GT3 car developed and built in-house by Lamborghini along with Dallara and Squadra Corse.
If a handful of Lamborghini Huracan GT3s do reach the United SportsCar Championship, they would be customer backed but would have full support from the Italian firm. If the Huracan GT3 does reach the newly formed championship, is would probably be in the second half of next year.
"Daytona is too early because we're not able to produce the cars in time to be ready. Next year, if we'll see some cars in the TUDOR Championship, it would probably be in the second part of the season, or after the long endurance races.
"If it will happen, it would also be a good chance for us to start to get experience in this series," Sanna said.
The Lamborghini Huracan GT3 will inevitably share many of its tech with the recently revealed Huracan LP620-2 Super Trofeo. The Huracan Super Trofeo is rear-wheel drive and also has a touch more power than the road-going car. As a matter of fact, it now has 611 hp instead of the 602 hp of the standard model. Of more importance however, is the fact that it is rear-wheel drive. This is quite a surprise considering that the existing Gallardo Super Trofeo and Huracan are all wheel drive. As a result of Lamborghini utilising rear-wheel drive for the Huracan Super Trofeo it indicates that they are likely to do the same for select road-going variants.
[Via Sportscar365]