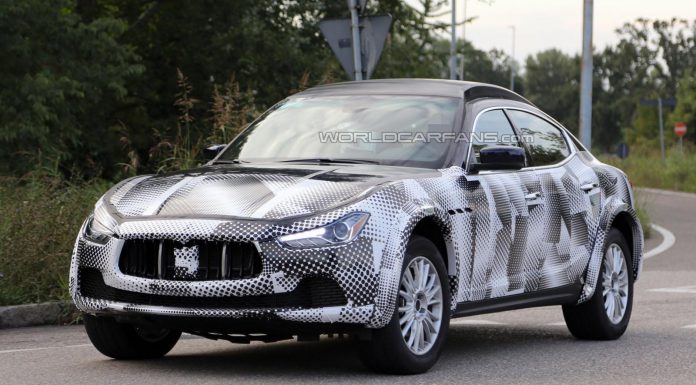 The upcoming Maserati Levante SUV has been spied testing for the very first time. Similar to early Jaguar SUV prototypes, this test mule is wearing the body of an existing model, in this case the Ghibli. However, there are a few tell tail signs which give up its real identity as the Italian firm's off-roader.
The most apparent change is the increased ride height as well as the wider track. Additionally, this Maserati Levante prototype includes a modified and heightened roof line, flared wheel arches and is quite possibly using an all-wheel drive system.
Last year, speculation emerged suggesting that the Levante will receive the new 525 hp V8 twin-turbo engine from the Quattroporte when it reportedly goes on sale in 2015. This could then be accompanied by other less powerful unit options among them being the 3.0 liter twin-turbo V6 from the Ghibli, a diesel V6 and probably the new V8 diesel from Fiat.
Further details about the Levante remain rather scarce but we do know that production will take place at the marque's Mirafiro plant in Northern Italy. The first bodies are expected to be produced next year. One key point of debate around the new Levante is what platform it will be based on.
Some rumours indicate that it will use the platform from the Jeep Grand Cherokee. Others however suggest that the Maserati Levante will be based around a modified platform from the latest iteration of the Quattroporte.
Recently, Maserati confirmed that the Maserati Levante won't rival low-end Porsche Cayenne models and will instead target the most luxurious and expensive end of this growing market.
The Maserati Levante is expected to compete with the likes of the Porsche Cayenne, Range Rover Sport and BMW X5. It should also help Maserati achieve its goal of reaching 50,000 annual sales alongside the new Ghibli and facelifted Quattroporte.
[Via World Car Fans]