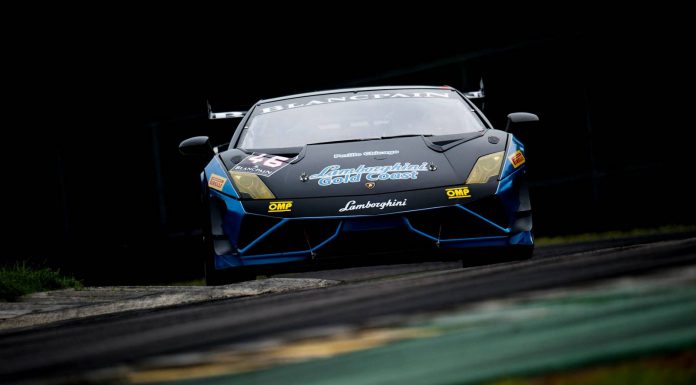 It was a full racing weekend at the Virginia International Raceway with the Lamborghini Blancpain Super Trofeo rounding out the weekend thrills. Round 9 and 10 took place with both wins going to Corey Lewis and Aaron Povoledo. This was their first ever win in the Lamborghini Blancpain Super Trofeo North America. Points leader Kevin Conway driving for Lamborghini Carolinas won the championship after gathering enough points from the two rounds.
Povoledo and Lewis driving for Lamborghini Boston in the No. 76 Gallardo LP 570-4 Super Trofeo fielded by Musante Motorsport took round 9 win ahead of Conway with a 15.055 seconds advantage. Conway finished second ahead of his teammate Victor Gonzalez. Dillon Machavern finished in fourth in the Lamborghini Boston Super Trofeo car, he was first in the Amateur class. Second in the Amateur class was Musante Motorsports teammates Joe Courtney and Peter Argetsinger. Kevin O'Connell was third in the No. 9 Lamborghini Houston fielded by Rick Ware Racing.
Round 10 was not different for Corey Lewis and Aaron Povoledo as they stormed to victory once again after topping the charts in every race. Dillon Machavern improved his position from round 9 by finishing second overall in round 10. He ranked first again in the Amateur class driving the No. 07 Mitchum Motorsports Super Trofeo car. Conway finished the race in third. He needed to finish the race with a lead of 31 points or more to claim the championship and ended up with a 52 point lead over rival John Farano.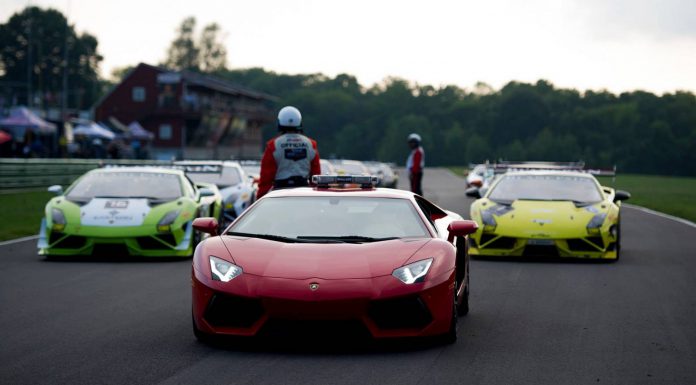 Lamborghini Blancpain Super Trofeo Asia resumes this weekend at Fuji Speedway in Oyama, Japan.
Quotes:
COREY LEWIS (No. 76 Lamborghini Boston, winner):
We've had an absolutely amazing car all weekend. I just tried to get it out front and hold a steady pace the whole way through. I wanted to conserve the tires as much as possible. There came a point where I had a big lead and was in the safety zone, and my goal was to keep it going and get to the window to pass it off and let Aaron finish it up. And that's what he did.
AARON POVOLEDO (No. 76 Lamborghini Boston, winner):
The mindset is the same getting in the car, no matter what. We've lost races in this series because of bad pit stops. So you just have to focus on what's next, and then after that, it's just process, process, process. We've done a lot of hard work with this car. Even from yesterday we made some small changes in the setup. We're not afraid to take some chances, but everything we've done has helped us get better. When you have a very powerful Lamborghini with four-wheel drive, you have to get front and the rear to compliment each other. I think we're finding the magic zone, and that's why I think you're seeing the gaps in times.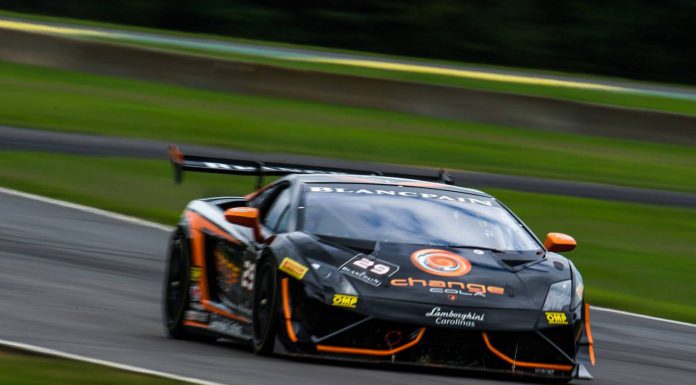 DILLON MACHAVERN (No. 07, second, first Amateur):
It was a really wild race. The car was definitely stronger than yesterday. About halfway in, Gonzalez blew a tire at the top of the esses, which is the fastest part of the track, and I had to go into the grass to avoid him. So I lost a couple of spots, and we had to come in for a stop earlier than we had wanted to. After that, we were just trying to maintain the pace and save the tires because we figured something would happen at the end, and it ended up happening. There was a lapped car between Kevin (Conway) and I and the leader. We split him, and it ended up working in my favor.
KEVIN CONWAY (No. 29 Lamborghini Carolinas, third):
It wasn't quite as good as yesterday. We made some adjustments on the car. It just got a little bit too free at the end. We had a little too much oversteer to contend. I just tried to make the most of the day in the points, and now with Mitchum in the championship, we're neck and neck. We'll take that to Rounds 11 and 12 of the championship at Road Atlanta, Petit Le Mans. Excited, all in all, for Lamborghini Carolinas to lock up our Drivers Championship and continue in our lead with the Team Championship. I just want to thank Robby Benton and Eddie Littlefield. All of our guys worked really hard. We were looking for a better result, but we'll take this, and it adds a lot of fuel to the fire heading into the last two rounds of the season. We've locked up the Drivers Championship, so it's all about the Team Championship now.