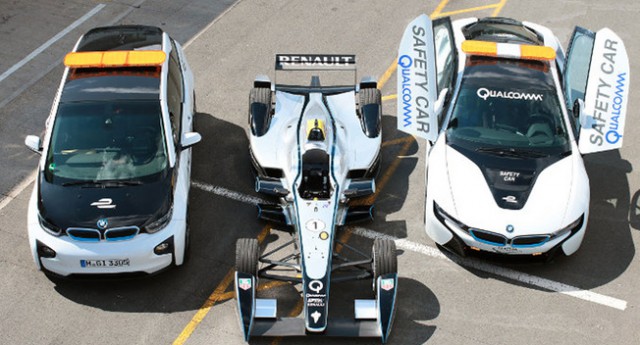 According to electronics supplier Qualcomm, wireless charging for electric vehicles could reach the market as soon as 2017.
Qualcomm recently revealed the technology for the BMW i3 and i8 acting as course cars and the safety car for the new Formula E season respectively. As a result, the cars will need to be fully charged and at a moment's notice, be deployed onto the race track in the case of a severe crash.
While speaking with Auto Express about the technology recently, vice president of business development and marketing for Qualcomm Halo Dr Anthony Thompson said, "We're in discussions at some level with all of the major companies developing electric vehicles, and some requests for quotations have already gone out. We'd expect to see the system on a production car by 2017."
It remains to be seen at what premium a car utilising wireless charging will be available compared to a more traditionally powered electric or plug-in hybrid vehicle. In this vein, Thompson revealed the technology is likely to debut in luxury and expensive vehicles.
"A member of senior management at one of the carmakers we're talking to told me that they see EVs as a 10-year game," said Thompson. "They expect that 50 per cent of the cars they sell will be EVs or hybrids by then – and almost all of them will be using wireless charging by that point, too."
The system works thanks to one charging pad on the base of the car and one on the ground. A current is then sent through coiled wires in the ground pad to create a magnetic field. The car pad captures this energy and converts it to DC to recharge the batteries.
Thompson revealed that it has only become possible to wirelessly charge things as big as cars in the last 20 years. Once implemented, it is quite likely that conventional cable charging will be phased out.
[Via Auto Express]