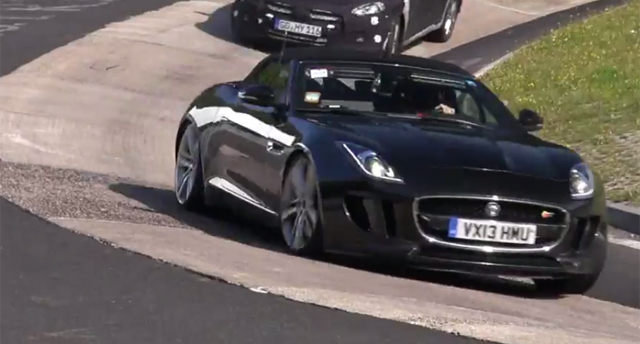 It is absolutely no secret that Jaguar is currently developing a huge range of new F-Type models. We are expecting even faster and more powerful versions of both the F-Type Coupe and the regular Convertible model as well as the introduction of a four-cylinder engine. Additionally, all-wheel drive is set to become an option in the future and excitingly, we now know that Jaguar is working on an F-Type with a traditional manual transmission.
The following Jaguar F-Type V6S prototype was recently spied testing on the Nurburgring and when you listen to the gear changes, it is unmistakeable the car features a manual, most likely a 6-speed. In case you didn't know, the Jaguar F-Type is only available with an eight-speed automatic transmission from the entry-level 3.0-litre V6 convertible through to the range-topping F-Type R Coupe.
[youtube]http://www.youtube.com/watch?v=iGIRXGl01kc[/youtube]
Beyond the new transmission, this test mule is likely powered by the same engine as the standard F-Type V6S. That is a 3.0-litre supercharged V6 delivering an impressive 375 hp at 6500 rpm and 469 Nm of torque between 3500 and 5000 rpm.
Typically speaking, cars with manual gearboxes are cheaper than their automatic siblings. Because however, the new manual for the F-Type is a brand new transmission not borrowed from other existing Jaguar models, a price hike could be justified due to the additional research and development costs.