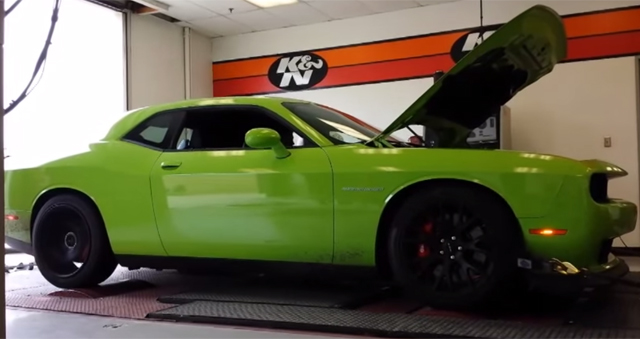 One could quite fairly say that we are currently in the midst of another golden era for muscle cars. With brutal models like the Ford Mustang GT500, Chevrolet Camaro ZL1 and Z/28 as well as the Dodge Challenger SRT Hellcat becoming the norm, American muscle cars are getting more and more powerful and continually more impressive.
Now we've stumble upon an awesome video of a bright green Challenger SRT Hellcat on a dyno and sounding absolutely incredible as it rips through the gears!
[youtube]https://www.youtube.com/watch?v=iKgXNAHVWRE[/youtube]
Under the hood, the 6.2-litre supercharged V8 engine pumps out a truly spectacular 707 hp and 650 lb-ft of torque! To help limit power of the new SRT Hellcat in not-ideal situations, it comes standard with a black key fob which limits power to 500 hp while the red key fob unlocks the full potential of 707 screaming horsepower! This power comes courtesy of a 6.2-litre HEMI V8 supercharged engine which we now know is the most powerful engine the Chrysler Group has ever produced.
Design changes include a new front fascia and all-new vertical-split grille. It gets a larger, power-bulge aluminium hood with a dedicated "cold-air" intake much like the original Viper coupe. The hood comes standard in body colour and is available in a Satin Black finish. The quad projector headlamps are new too as is the larger front splitter and supercharger fender badges and notably, one of the headlights also serves as an air intake. The rear gets a split tail-lamp design and new rear fascia. The diffuser is a new design, as is the taller rear spoiler.
The new Hellcat 6.2-litre supercharged V8 is now also available in the 2015 Dodge Charger SRT Hellcat. Thanks to identical power and torque figures as the Challenger, the Charger SRT Hellcat is quite comfortably the world's most powerful sedan with it well ahead of the 621 hp Mercedes-Benz S65 AMG!