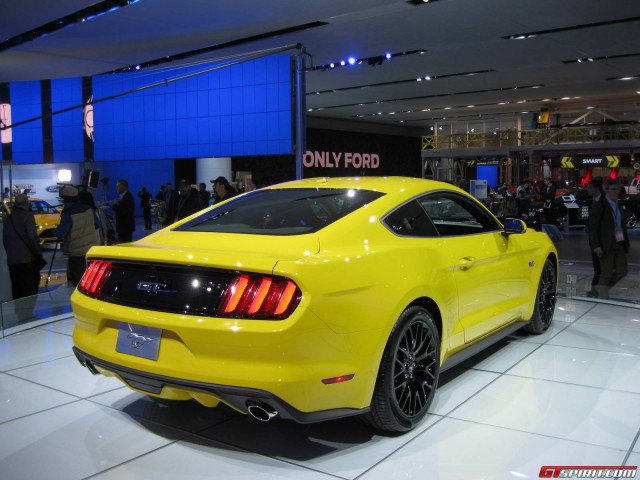 The fuel economy ratings of the 3.7-litre V6 powered and turbocharged EcoBoost four-cylinder equipped 2015 Ford Mustang models have leaked online courtesy of the team at Mustang6G. The figures reveal that the Mustang is about on par with its rivals, the Chevrolet Camaro and Dodge Challenger in terms of fuel efficiency and improved over the fifth-gen car.
For the V6 equipped unit mated to a manual transmission, it can get 17 mpg in the city and 28 mpg on the highway. As for the automatic V6, city fuel efficiency increases marginally to 19 mpg while highway efficiency remains at 28 mpg. In case you didn't know, this engine delivers 300 hp and 290 lb-ft of torque.
Compared to these efficiency figures, the V6 manual Camaro achieves identical city and highway figures while the six-cylinder Challenger (only available with an eight-speed auto) hits 19 mpg city and 30 mpg highway.
As for the EcoBoost powered 2015 Ford Mustang, it achieves an impressive 22 mpg in the city and 31 mpg on the highway when equipped with the manual transmission. The engine officially produces 310 hp and 320 lb-ft of torque as well as an impressive 135 hp per litre and more than 139 lb-ft of torque per litre. It was built specifically for the sixth-gen Mustang.
Some of its key features include a forged steel crankshaft, piston cooling jets, steel piston ring carriers, forged steel connecting rods as well as a high-pressure die-cast aluminium cylinder block with ladder-frame bearing caps.
Not too long ago, weight figures for the 2015 Ford Mustang also emerged and despite being heavier than the car it replaces, the sixth-generation Mustang is for all intents and purposes, a better car than the one it replaces. From a weight standpoint, the 2015 Ford Mustang GT fastback tips the scales at 1691 kg while the 2.3-litre EcoBoost fastback produces 1598 kg. These equate to modest weight gains of between 12 and 87 pounds over the fifth-gen Mustang.
[Via Mustang 6G]