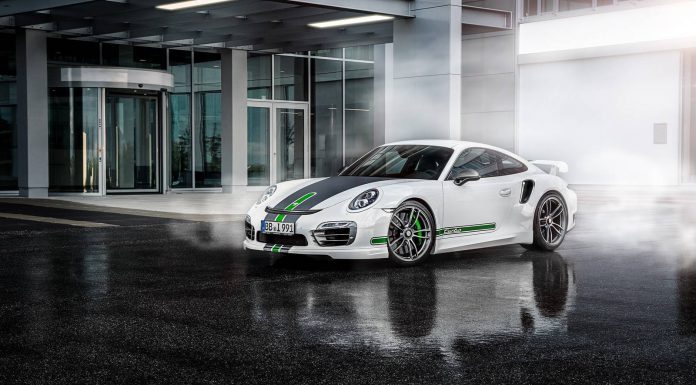 TechArt has just dropped fresh information about its tuning kit for both the 2014 Porsche 911 Turbo and 2014 Porsche 911 Turbo S. As we've come to expect from the tuner's, the changes are both visual and mechanical in nature and see both 911 Turbo models boosted to even more epic proportions.
When the latest Porsche 911 Turbo leaves the factory, its twin-turbocharged 3.8-litre six-cylinder engine delivers 520 hp and 660 Nm (or 710 Nm with the overboost function). This is where the TechArt Power Kit TA 091/T1 comes in. It helps boost that overall power figure to 580 hp as well as 790 Nm of torque. As a result of this, the TechArt tuned 991-generation 911 Turbo hits 100 km/h in just 2.9 seconds while the Cabriolet reaches the same mark in 3 seconds. The 911 Turbo coupe upgraded by TechArt also hits 200 km/h from a standstill in just 9.8 seconds. Top speeds of both models have been upped by 10 to 325 km/h.
To match the engine upgrades, TechArt also offers its special sports exhaust system with valve control. The exhaust is made from high quality stainless steel and is available in a gloss chrome or matte black chrome finish.
From next month, TechArt will begin offers new forged centrelock wheels for the Porsche 911 Turbo, Turbo S and latest-generation 911 GT3. Manufactured as 20-inch wheels, they feature a five-spoke design and can be finished in titanium grey or with a simple polished surface.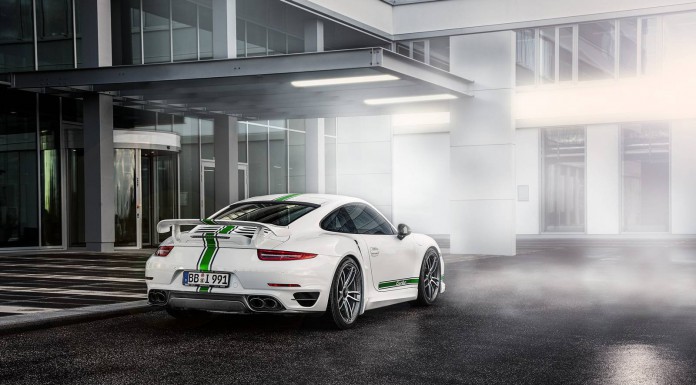 We already know how potent the TechArt tuned 911 Turbo S is but here is a quick reminder. As standard, the Porsche 991 Turbo S delivers 560 hp and 700 Nm of torque with 750 Nm available with overboost in Sport and Sport Plus modes. TechArt's TA 091/T1.1 program delivers increases of 60 hp and 130 Nm over these figures. This means that the 3.8 litre 6-cylinder Bi-Turbo engine produces 620 hp and up to 880 Nm of torque in total.