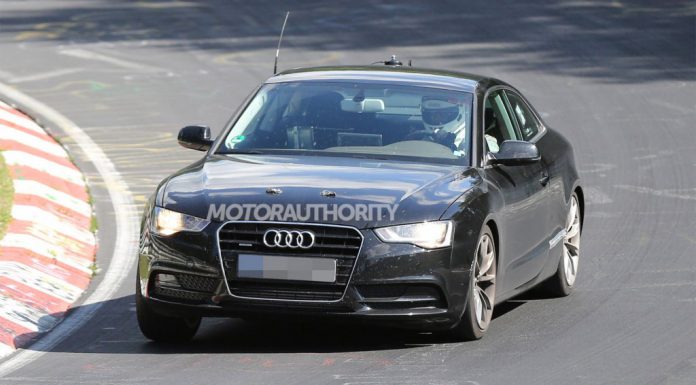 For the 2016 model year, Audi is preparing a second-generation variant of the A5. The car will most likely arrive in showrooms in about 12 months' time and accordingly, the very first spy shots of a test mule testing at the Nurburgring have emerged. While the prototype in question wears the body of the current Audi A5, under the skin, it is testing a host of new technologies which the second-gen car will bring to production.
First of all, we know that the 2016 Audi A5 will utilise Audi's latest MLB (modular longitudinal) platform. This new platform is rumoured to be debuting on the 2016 next-generation Audi A7 and further down the line, will underpin the new Audi A4 and Audi A8. While the platform has the capacity to be scaled to suit different vehicles, we expect it to be of similar size to the current platform of the Audi A5. As a result, don't expect any proportion changes for the car.
This new platform was first previewed by the Audi Sport Quattro Concept introduced at the Frankfurt Motor Show 2013 in September last year. Thanks to its heavy utilisation of steel, aluminium and composites, all future Audi models set to use it should weigh significantly less than their outgoing cars. For the 2016 Audi A5, the new MLB architecture could save 200 pounds alone.
From an engine standpoint, the 2016 Audi A5 model range is speculated to be receiving the same selection of powertrains as the current generation. For example, the entry-level 2.0-litre TFSI engine will be maintained. One engine which is expected to be dropped however is the Audi RS5's 4.2-litre naturally aspirated V8 engine. In its place will be the company's twin-turbocharged 4.0-litre. As a result, the M3, C63 AMG and RS5 will all utilise forced induction very soon.
Typically, drive will be sent to the front wheels with Quattro all-wheel drive continuing to be available as an option.
[Via Motor Authority]