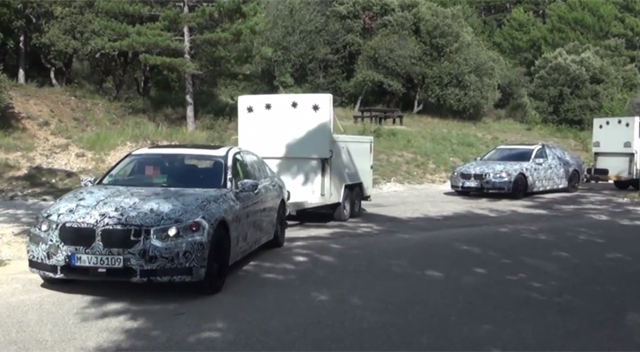 A duo of 2016 BMW 7-Series prototypes were recently filmed testing in some very desolate roads. Interestingly, both prototypes were towing rather large trailers and while it remains unclear if they were transporting anything, it is likely that the towing capacities were simply being tested. As the following video shows, one of the BMW engineers and test drivers was none too pleased with the cars being filmed!
When the new BMW 7-Series launches, it will bring with it a brand new platform dubbed the 35up. This new platform will be utilised by future 3,5, 6 and 7-Series vehicles in rear-wheel drive specification. After the new 7-Series debuts with the platform, the new 5-Series sedan and Gran Tourer will adopt it about 18 months down the track. While official details about the architecture aren't yet known, it is expected to incorporate carbon fibre and lightweight aluminium and will be a significant improvement over the existing one.
[youtube]https://www.youtube.com/watch?v=xY9tEqTKmsg#t=104[/youtube]
Beyond its platform, the new BMW 7-Series will utilise carbon fibre in its construction. Of course, the launch of the next 7-Series in 2015 will follow on from the i3 and i8 both of which utilise carbon fibre extensively. When combined with the new platform, the next-gen 7-Series should weigh upwards of 200 kg less than the outgoing car.
Beneath the new lightweight body, a host of engines will be available for the new 7-Series. While manufacturers are indeed adopting smaller and smaller engines, expect engines ranging from 6-cylinders to V12s to still be available.
One variant of the BMW 7-Series recently spied testing was the BMW 7-Series Long-wheelbase. It is speculated to use the Li designation and will of course rival the impending Mercedes-Benz S-Class Maybach. In addition to competing with the long wheelbase S-Class, this extended 2015 BMW 7-Series could also compete with the base Rolls-Royce Ghost which currently costs about $100k more than the most expensive 7-Series.