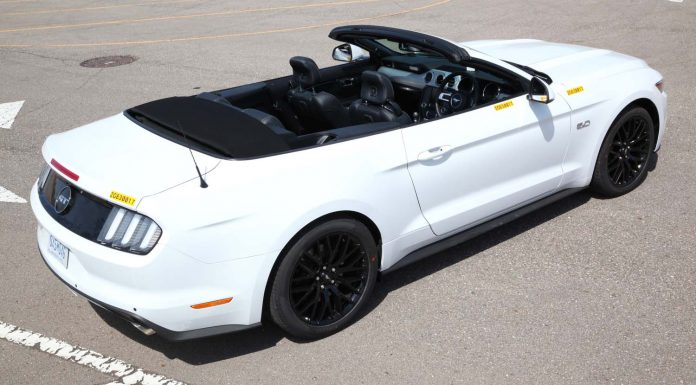 For the first time in the history of the Ford Mustang, the new car will be built from the factory in right-hand drive for select markets around the world. All up, the 2015 Ford Mustang will find its way to over 120 countries globally and of those, 25 require right-hand drive models and Ford is delivering. Some of the largest of this right-hand drive markets are the United Kingdom, Australia and South Africa.
As the image above shows, Mustang engineers recently finished construction of the very first right-hand-drive sixth-generation Mustang. The prototype Mustang will be used to conduct various development tests in preparation for the car's entry into the global market in the coming months.
In the official press release regarding the news, Ford said "While the United States is the largest market for Mustang with more than 9.2 million sales since the car's debut in 1964, more than 161,000 Mustangs have been sold outside of North America in that time. In 2012 alone, more than 4,000 Mustangs were sold in 35 countries outside of North America, ranging from the United Arab Emirates to Chile to the Philippines."
Considering all the praise that the 2015 Ford Mustang has been receiving since its reveal late last year, it is a great thing that enthusiasts around the world will be able to experience the Mustang for the first time.
In countries like Australia, right-hand drive conversions have only been available from aftermarket companies. With the introduction of right-hand drive Mustangs straight from Ford's American production facility, it will really help ensure that the latest generation muscle car is a true worldwide vehicle.
Its introduction into further markets will also mean it will have to rival locals cars in those respective countries rather than simply the likes of the Dodge Challenger and Chevrolet Camaro in the United States. We say the more markets the Mustang is available in, the better!