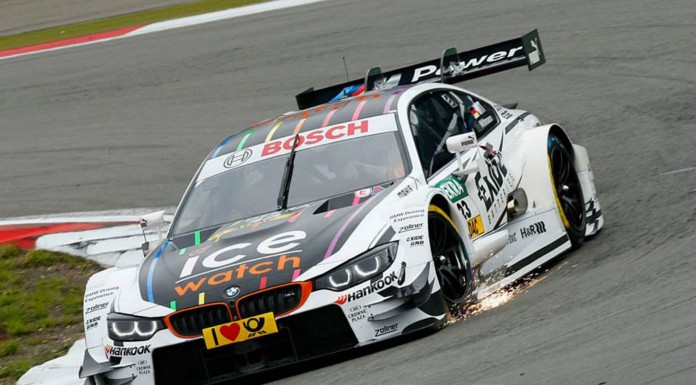 BMW driver Marco Wittmann proved to be unstoppable after winning the seventh round of the DTM season at the Nurburgring. Wittmann is now three races away from clinching his maiden DTM championship title. His closest rival Mattias Ekström retired from the race after an early collision allowing Wittmann to extend his lead in the standings to 120 points. Ekstrom is still second in the standings with 56 points.
Mike Rockenfeller finished the race in second driving an Audi RS5 DTM. It was a close finish as Rockenfeller had caught up with Wittmann in the final laps, having had an advantage from his quicker tires. Another Audi driver, Edoardo Mortara rounded off the podium finish in third place. Mercedes drivers impressed by having a total of five cars in the top ten.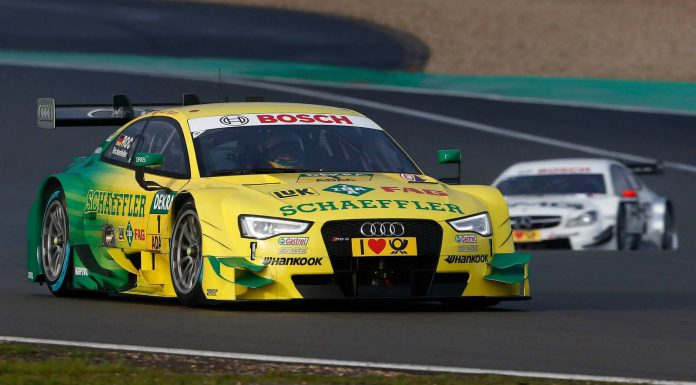 Best placed Mercedes driver was Paul Di Resta who missed the podium narrowly. He was followed by two other Mercedes DTM cars in fifth and sixth, Robert Wickens and Pascal Wehrlein then finished in ninth and tenth respectively. For now, Wittmann has a clear way ahead to claim the championship with a 64 point lead in the standings. His closest rival Ekstrom has only three races left to close that gap should he get lucky.
[youtube]http://www.youtube.com/watch?v=NjcK7T6ikQE[/youtube]
Other than Ekstrom, the other drivers who did not finish the race included BMW driver Augusto Farfus and three other Audi drivers; Nico Muller, Miguel Molina and Timo Scheider. The next race will head over to Lausitzring which is south of Berlin on September 14th.
Quotes:
Jens Marquardt, BMW Motorsport Director:"That was a very emotional weekend for us. Losing Dieter Lamm last week was really moving. Marco Wittmann's victory is a boost for the entire team. Like this, we are making a big step towards the title, but I kindly ask all those who want to congratulate us to wait, because today, we have seen how quickly a race can be over."
Dieter Gass, head of DTM, Audi: "Basically, having two drivers on the podium is a good result in the DTM. Congratulations to Mike Rockenfeller and Edoardo Mortara. Of course, the fact that only the two of them managed to use their good starting grid positions, isn't satisfying. Today, we have seen some situations that we need to look at once again in quiet. Losing four out of eight cars because of collisions hurts."
Wolfgang Schattling, head of DTM management, Mercedes-Benz: "We can live very well with the race result and fourth place for Paul Di Resta, because the Nürburgring doesn't particularly suit us. I am very happy for the entire team that we managed to get five cars into the top ten."