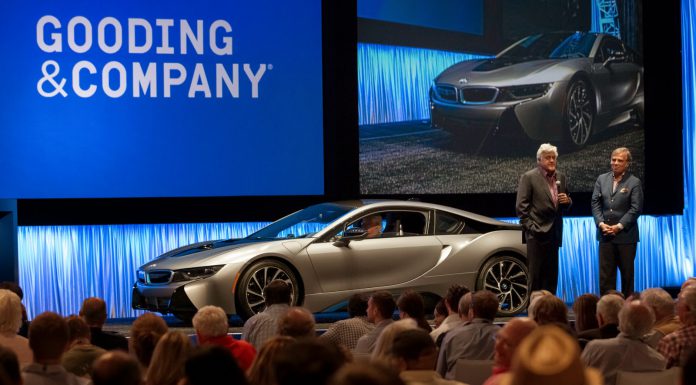 The special BMW i8 Concours d'Elegance Edition unveiled at Monterey Car Week 2014 went under the hammer and the price it fetched truly requires a double-take to sink in. The essentially standard BMW i8 managed to sell for a truly incredible $825,000 which is about six times more than a typical i8 will set you back.
The auction was held by Gooding & Company and presented by Jay Leno as well as BMW North America CEO Ludwig Willisch. The identity of the winning bidder remains unknown but they evidently must be a huge fan of the i8 hybrid sports car as well as a true BMW fanatic to pay Porsche 918 Spyder money for the i8. Money from the sale benefitted the Pebble Beach Company Foundation as well as the Concours d'Elegance itself.
This special i8 is particularly noteworthy thanks to its Frozen Grey metallic paint job as well as special stitching in the cabin alongside Dalbergia Brown leather upholstery. Elsewhere, it features laser etched door sills reading 'Pebble Beach Concours d'Elegance Edition' with i8 also embossed into the front headrests. The winning bidder also received a Louis Vuitton luggage set.
Additionally, the BMW i8 Concours d'Elegance Edition features the company's advanced new laser headlights which have yet to be approved for road use in the United States.
The production-spec i8 was of course revealed to the public last year at the Frankfurt Auto Show with production commencing in April. Powering it is a 1.5-liter three-cylinder TwinPower Turbo petrol engine, good for 231 horsepower and 320 Nm of torque, in addition to a 130 hp electric motor. The petrol engine sends power to the rear wheels through a six-speed automatic gearbox, while the electric motor turns the front wheels through a two-stage transmission. The combo is good for 362 hp and 570 Nm of torque, 0-100 km/h in 4.4 seconds and most importantly, up to 113 miles per gallon.