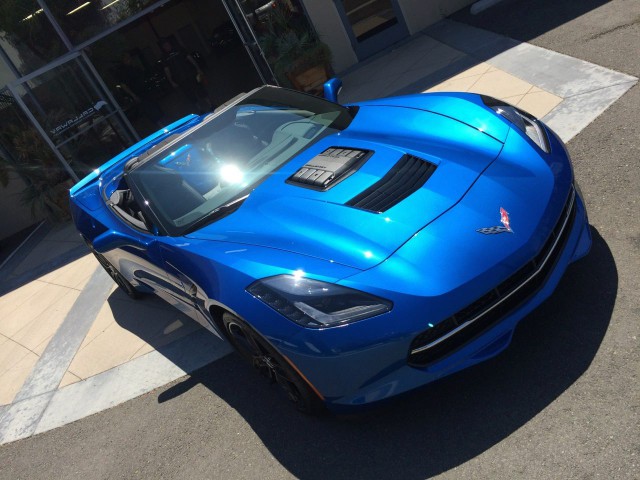 The Callaway Chevrolet Corvette SC627 may have only recently been introduced but customer cars are already beginning to roll out of the performance shop. The latest to do so is arguably the best-looking example to date and it is obvious to see why.
This particular C7 Corvette Stingray now heavily upgraded by Callaway is finished in Laguna Blue and also has a set of sexy black wheels. When initially promoting its upcoming supercharged SC627 upgrade for the C7 Corvette, Callaway said it would deliver 620 hp and 600 lb-ft of torque. Upon its release last month however, these figures were slightly upped.
Now, horsepower is rated at 627 hp at 6500 rpm while torque is 610 lb-ft at 4400 rpm. In order to achieve these power gains over the entry-level Corvette and its 455 hp, Callaway have fitted a new in-house supercharger completed with a single acoustic chamber exhaust system. This supercharger comes with Callaway's new intake manifold design as well as a new intercooler.
From a visual standpoint, the Callaway Corvette SC627 can be differentiated from the regular Corvette with the supercharger seen poking out of the elongated hood and the upgrades are available for both the coupe and convertible versions of the latest-gen Corvette.
For all the extra power you get, one may expect to fork over a small fortune to Callaway for the upgrades. However, the entire kit costs $22,995 on top of the minimum $53,000 of the entry-level Corvette. Additionally, the Callaway Chevrolet Corvette SC627 has a three year 36,000 mile warranty which can be upped to a five year/100,000 powertrain warranty!