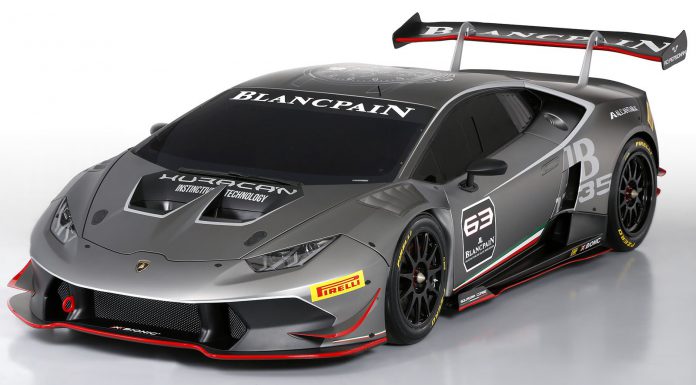 After being snapped before its unveiling, the Lamborghini Huracan LP620-2 Super Trofeo has been introduced at Monterey Car Week 2014. Set to join the existing Gallardo Super Trofeo in the company's one-make racing series, the Huracan will spice up on-track action even more!
As you probably noticed from the name, the Huracan Super Trofeo is rear-wheel drive and also a touch more power than the road-going car. As a matter of fact, it now has 611 hp instead of the 602 hp of the standard model. Of more importance however, is the fact that it is rear-wheel drive. This is quite a surprise considering that the existing Gallardo Super Trofeo and Huracan are all wheel drive. As a result of Lamborghini utilising rear-wheel drive for the Huracan Super Trofeo it indicates that they are likely to do the same for select road-going variants.
The car was co-developed by Dallara Engineering and when speaking about it, Lamborghini's research and development boss Maurizio Reggiani said, "The Huracán Super Trofeo is an all-new car built from scratch with a clear racing concept. We believe it will be as fun for fans to watch as it will be rewarding for our racers to drive."
Finished in a stunning shade of matte grey along with a host of red accents, the Huracan Super Trofeo looks just as extreme as we'd expected. At the front, the car features a brand new front bumper incorporating a prominent front splitter and large carbon fibre canards all designed to provide additional downforce.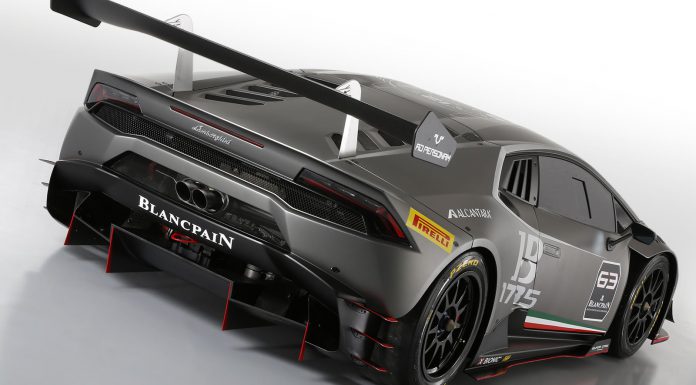 Elsewhere, the car features a revised hood with large air outlets funnelling out air sucked in via the front air intakes. The Lamborghini Huracan LP610-4 Super Trofeo also includes special shark fins on the front wheel arches which sit above the sticky Pirelli P Zero racing tyres. Along the sides, new skirts are featured as well as revised air intakes.
At the back, Lamborghini Huracan Super Trofeo features a towering rear wing as well as a decklid similar to the current Gallardo Super Trofeo racers. It has also ditched the quad tailpipe design of the road-going Huracan in favour or dual exiting exhausts in the centre of the rear. Finally, the Super Trofeo features a massive diffuser with red accents seemingly inspired by the Lamborghini Veneno.