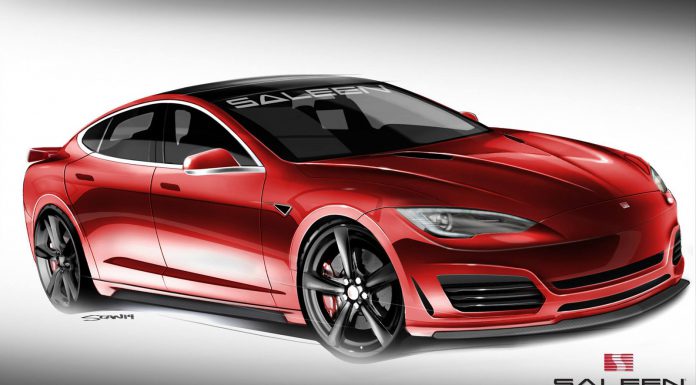 Saleen has confirmed that its special electric car based on the Tesla Model S will debut at the Pebble Beach Concours d'Elegance this weekend.
Set to be dubbed the Saleen Foursixteen, the car will feature a host of visual, performance and technical upgrades helping to separate it from the standard Model S. For starters, we know that the Foursixteen will feature new suspension courtesy of Bilstein with a host of visual changes being previewed in recent sketches and renderings.
Discussing the car, Saleen Automotive CEO Steve Saleen said, "We are eager to showcase the results of the tremendous effort of my team at Saleen Automotive, culminating in what I believe is a truly exceptional all-electric vehicle that stands on the shoulders of the Tesla's innate excellence yet displays the Saleen heritage for which we are known."
Visually, the Tesla Model S based Saleen Foursixteen will feature a completely new bodykit for the all-electric sedan giving it a much more aggressive look. The new bodykit consists of a redesigned front bumper, hood, front splitter, side skirts, rear wing, rear bumper and a prominent rear diffuser inevitably made of carbon fiber.
Despite all the impressive visual changes, Saleen is promising that the most significant changes are mechanical. Steve Saleen recently said, "As pleased as I am by the aesthetics seen in these renderings, perhaps the true Saleen mark will be best exhibited by the mechanical enhancements that will only be seen as the live vehicle hits the streets this summer."