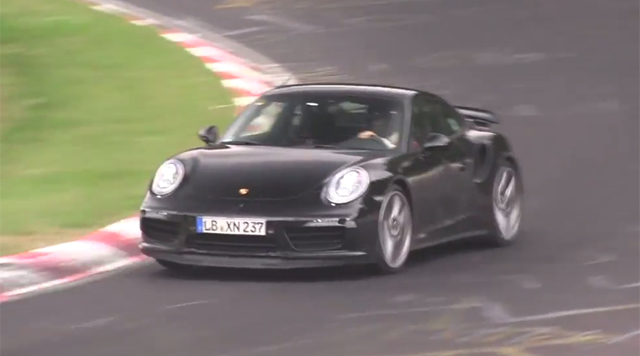 A couple prototypes for the upcoming 2015 Porsche 991.2 911 Turbo S have been spied hitting the Nurburgring furiously while wearing very little camouflage but complete with a range of testing equipment.
As the video shows, the hardtop prototype as well as the Cabriolet are being pushed to their absolute limits with test drivers even managing to kick out the rear-end on the all-wheel drive sports car due to their speed!
[youtube]https://www.youtube.com/watch?v=2w4nIwPtiws[/youtube]
For the mid-life 911 Turbo and Turbo S models, we are expecting quite a few changes. First off, we know that the facelifted Porsche 911 will receive slimmer LED daytime running lights and is also expected to feature active front air intakes which can be opened and closed at different speeds to improve aerodynamics.
Elsewhere, some tweaks to the taillights and rear bumper are expected as these are essentially the only camouflaged areas seen on all 991.2 prototypes so far. As is typically the case, we should also see some performance gains. The Porsche 911 Turbo S currently delivers 560 hp but we expect that to rise further towards the 600 hp mark.
Alongside the facelifted 911 models, a brand new variant dubbed the Porsche 911 GTS is expected to launch.
The new models are likely to launch sometime next year.