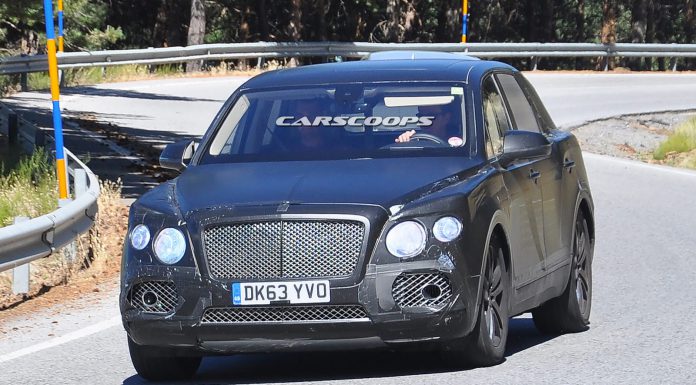 The long-awaited Bentley SUV has been snapped testing again in what appears to be its overall production body even though much of the front end is camouflaged.
Just recently it was confirmed that the design of the new Bentley SUV had been signed off for production with Bentley design chief Luc Donkerworke saying, "The design is now signed off for production. The concept is completely set apart and was done separately. After Geneva 2012, I was told to do a new one. It's completely different to the concept car. The concept was only intended to pose the question, 'can we do a Bentley SUV?', rather than showing a production car. I started with new parameters and a clean sheet [of paper]."
As it stands, it is believed that V8 and W12 variants of the Bentley SUV will be offered with a plug-in hybrid version of the V8 to be made available a year after the car launches. There is also a possibility that a diesel driven derivative could be offered but a final decision on that won't come before the end of this year. If a diesel is given the go ahead, the Bentley SUV will make use of Audi's 4.2-litre V8 TDI also set to be used by the next-generation Porsche Cayenne.
While the Bentley SUV V8 plug-in hybrid will likely come at a premium over the other models, it is anticipated to be the best-selling version. As a matter of fact, during recent market research, Bentley discovered that almost 30 per cent of interested buyers would opt for a hybrid version.
With the massive W12 under the bonnet, Bentley sales and marketing director Kevin Rose said it is a key objective of the SUV project to make it the fastest SUV on the road. If that is to be achieved, it'll have to top the Porsche Cayenne Turbo S' sprint to 96 km/h (60 mph) in just 4.3 seconds!
[Via Carscoops]