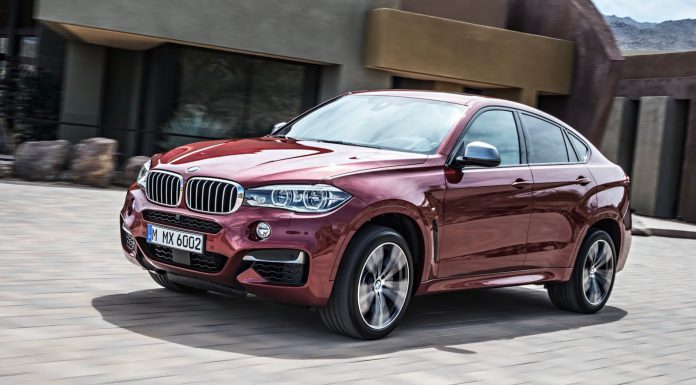 The new 2015 BMW X6 is set to be unveiled at the upcoming Paris Motor Show 2014 in October. BMW had originally planned to reveal the car at the Moscow Motor Show in August but those plans have been scrapped because it was decided more potential customers would be at the Paris show.
The first-generation BMW X6 proved so popular alongside the X5, that it was inevitable BMW would reveal an successor to the X6. Straight away, the visual changes are apparent on the new BMW X6.
Generally speaking, the new car maintains a similar profile to the outgoing model with its swooped roofline stretching to the high rear-hatch. However, all the panels are new with those on the side adding a particularly nice sense of purpose and aggression to the 2015 BMW X6.
Elsewhere, the new car receives a revised rear diffuser and bumper while brand new taillights are featured and appear slightly larger and curvier than those on the current car. The visual changes at the front are just as expected, with a new bumper, tweaks to the front grille as well as modified headlights. All in all, the new 2015 BMW X6 is a fitting replacement from a visual standpoint.
When compared to the current X6, the new one is 32 mm longer, 6 mm wider and 33 mm taller. Importantly however, the wheelbase has remained unchanged with it totalling 2933 mm. Thanks to the extra size of the car, luggage space with the rear seats in place is up by 10 litres to 580 litres while that figure grows to 1525 litres with the rear seats folded in a 40:20:40 configuration. All up, an additional 75 litres of luggage space is available which will be perfect for many X6 owners.