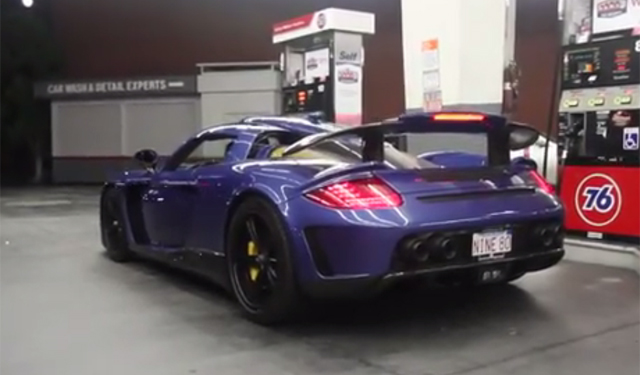 Very few examples of the truly incredible Gemballa Mirage GT reside in the United States. This beautiful example, number 23 of 25, a Cobalt Blue Metallic Edition, was recently filmed hitting the streets of Beverly Hills late at night!
As you would imagine, the car sounded absolutely incredible cruising through the exclusive streets which is hardly surprising when you look at the list of modifications!
[youtube]https://www.youtube.com/watch?v=kwpyrVz7qAA[/youtube]
The basis for the vehicle is the Carrera GT, Porsche's fastest and most expensive supercar in its time, challenging the Ferrari Enzo and the Mercedes-Benz SLR McLaren for the title of ultimate supercar of the early twenty-first century.
Stock, the 5.7-liter V10 engine from the Porsche Carrera GT on which the Mirage GT is based delivers 612 hp at 8,00 0rpm, 590 Nm at 5,750 rpm and it will take you to 100 km/h in 3.9 seconds, and from zero to 193 km/h in 9.9 seconds. The red line is at 8,400 rpm and the top speed is 330 km/h. By comparison, the Gemballa Mirage GT delivers 670 hp at 8,000 rpm and 830 Nm of torque at 5,700 rpm.
Also check out our exclusive Gemballa Mirage GT review!