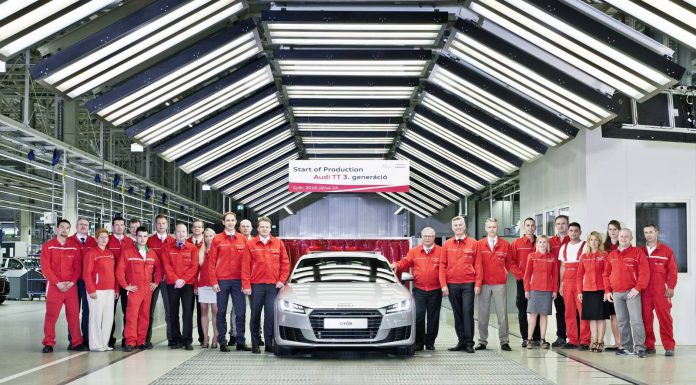 Production of the brand new 2015 Audi TT has just kicked off at Audi Hungari Motor which also produces the popular Audi A3 sedan.
The TT has become such an icon thanks to its instantly recognisable body shape with its strong arches and smooth curved roof. The third generation of TT emphasises and extenuates the strong lines and angles of the sports coupe. The front of the new TT is characterised by horizontal lines. The singleframe grille is much broader and flatter than that of the previous model, with a powerful line dividing it into two zones. Starting in the top corners of the grille, sharp contours run in a V across the hood, which bears the four Audi rings mimicking the design on the Audi R8 supercar.
Understandably, Audi believes the third-generation car can exceed the 2 million examples of the previous-generation car which were sold.
Automobile production director at Audi Hungari Gerd Walker said, "The new generation of the Audi TT is the third model that Audi is completely producing in the new car plant at our site in Hungary. The successful model integration on the new production line is an important activity for the GyQr production site: This means that the plant is now operating at full capacity."