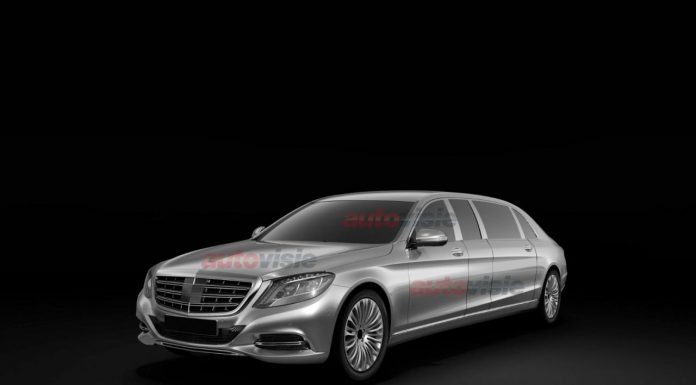 It goes without saying that we're excited for the new 2015 Mercedes-Benz S-Class Pullman. The model should redefine our preconceived notions about luxury and is likely to cost about $1 million in the United States. That will be about double a Rolls-Royce Phantom. While we eagerly await the reveal of the car, reported patented images of the new S-Class Pullman have emerged online.
It is suggested that these images were original registered with the United States Patent and Trademark Office back in February 2013. As we expected, the car is the definition of luxury and style and will reportedly be 6.4 metres long!
To ensure its occupants are comfortable, it won't simply use the extra length to add more seats as it will instead feature a spacious 2+2+2 seating design with the four rear seats facing each other to provide a true limousine experience.
According to recent reports, Mercedes-Benz tuner Brabus is being charged with the development of such a model and that it will be available in a host of specifications including the most expensive armoured version. This car will reportedly be capable of withstanding continuous gun fire, hand grenades as well as other small explosions.
In S 600 specification, the Pullman should feature the same 6.0-liter twin-turbocharged V12 engine delivering a total of 523 hp between 4900 rpm and 5300 rpm and 612 lb-ft of torque between 1900 and 4000 rpm as the standard length S 600. Due to the increased weight and size of the Pullman, it won't be as fast nor as efficient as the standard S-Class.
The Mercedes-Benz S-Class Pullman will likely be unveiled early next year after the stretched S-Class Maybach debuts at the Los Angeles Auto Show 2014 in November.