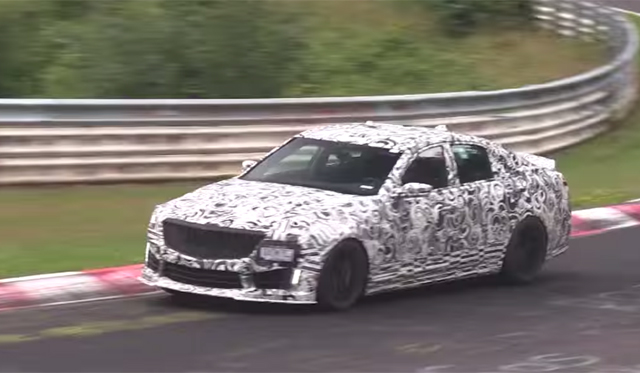 With both the upcoming Cadillac ATS-V and Cadillac CTS-V testing at the Nurburgring as we speak, numerous prototypes have been spied testing at the famous circuit. Now the first video of the upcoming CTS-V sedan testing at the circuit has been posted online and it shows just how loud and brutal the latest generation CTS-V should be.
Visually, this prototype features an in-your-face front bumper as well as a matte black vertical-slatted front grille which is obviously not production ready. Hiding beneath the camouflage should be sharp headlights. Elsewhere, we can see massive wheels, a very low ride height, beefed up brakes while at the rear, a prominent bootlid lip spoiler is included as is a rear diffuser and quad exhaust pipes.
[youtube]https://www.youtube.com/watch?v=Cecjyml6vWg#t=78[/youtube]
There are at least two engine options for the new Cadillac CTS-V. The first and most likely is a variant of the new Chevrolet Corvette Z06's 6.2-litre supercharged V8 engine while the second is a twin-turbocharged 4.5-litre V8 from the Cadillac Elmiraj Concept. We believe the former is the most likely to be adopted.
This brutal engine will be inevitably tweaked for the CTS-V but is still tipped to produce in excess of 600 hp. As a result of this, the 2015 Cadillac CTS-V could conceivably deliver 50 hp more than the previous-gen car which delivered 556 hp and 551 lb-ft of torque. Such figures will put it yards ahead of rivals like the M5 and E 63 AMG.