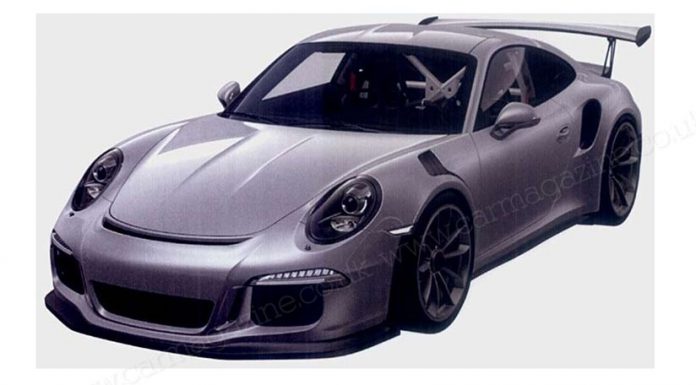 Not too long after a scale model of the 2015 Porsche 911 GT3 RS emerged, official patent renderings of the upcoming rear-engined sports car have leaked online.
As previously speculated, the design of the new 911 GT3 RS is quite different from the regular GT3 with a host of visual and aerodynamic tweaks employed to ensure it not only turns more heads, but also delivers substantially more downforce. At the front end for example, it features a more prominent splitter, a revised bonnet as well as flared wheel arches and air vents.
Elsewhere, a new double bubble roof has been adopted alongside new side skirts. One of the most head-scratching elements of the new 911 GT3 RS is the fact that it features the same side air intakes as all current Porsche 911 Turbo models. Despite reports suggesting otherwise, the 2015 Porsche 911 GT3 RS will utilise a naturally-aspirated engine with the new intakes simply being there to increase the air flow into the engine. They are featured on the naturally-aspirated 911 RSR at the moment.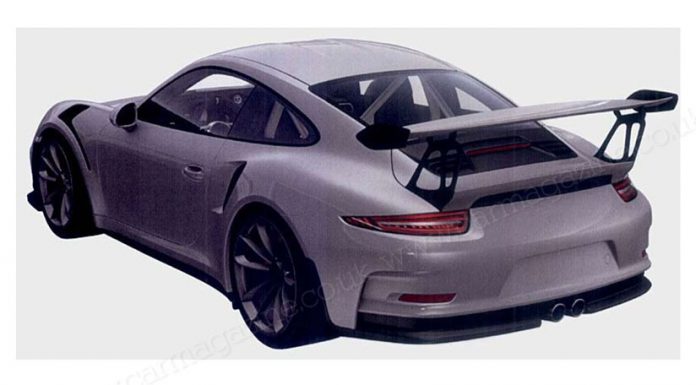 Final changes include the adoption of a high rear wing as well as dual centrally-exiting exhaust pipes.
Under the hood, it is likely that the 3.8-litre flat-six from the GT3 will be uprated from 469 hp to around 500 hp. Elsewhere, the 911 GT3 RS will weigh less than the GT3 and should make it the most potent current 911 model around the track. Unfortunately, no manual transmission is expected.
[Via Car Magazine]