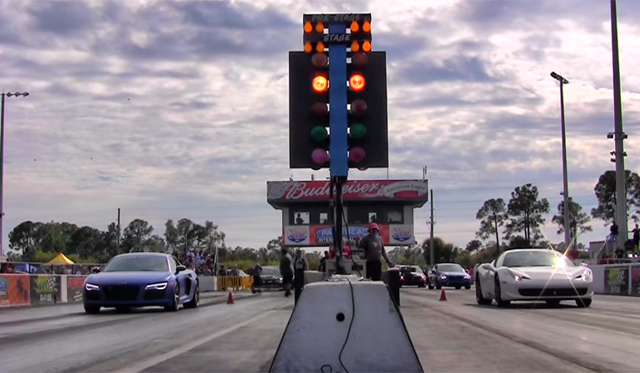 With the two being separated by just 12 horsepower, the Ferrari 458 Italia and Audi R8 V10 Plus are exceptionally closely matched. Additionally, both and mid-engined are available only with dual-clutch semi-automatic transmissions. Where they really differ however is that the 458 Italia features rear wheel drive while the R8 V10 Plus has all-wheel drive.
[youtube]https://www.youtube.com/watch?v=DQlaLgy4Z5E#t=31[/youtube]
So how do the two compare in an epic drag race? Well, as the following video shows, they are very evenly matched despite the different drive configurations. Unfortunately, the awesome Audi R8 V10 Plus jumps the green light during the run instantly giving it the advantage.