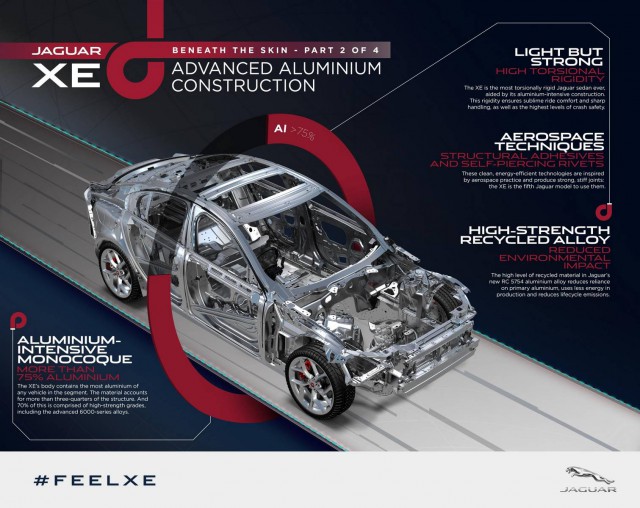 We are thoroughly looking forward to 8th September this year when Jaguar will officially unveil the new Jaguar XE! It seems as though the teasing will continue in the lead up to the event. Jaguar have announced details of the aluminium architecture that will underpin the new Jaguar XE!
Jaguar are world leaders in aluminium car design, having accrued plenty of experience with cars like the F-Type. The XE will benefit from this expertise with new, high strength modular architecture. It will use a new highly recycled aluminium alloy, RC5754, bonded and riveted for extra strength and reduced weight.
[youtube]http://www.youtube.com/watch?v=JyRtc5qjm8E[/youtube]
The monocoque is constructed from 75 per cent aluminium. Jaguar hopes that by 2020, it will be using 75% recycled materials across its product range. The XE is said to deliver over 75 mpg in its most efficient guise. It should also emit less than 100g/km carbon dioxide.
Dr Mark White, Jaguar's Chief Technical Specialist said:
"The Jaguar XE body uses over 75% aluminium content, which far exceeds any other car in its class. This gives us a body structure with unrivalled low weight: it's light but also immensely strong with extremely high levels of torsional stiffness. We've made sure our aluminium-intensive body structure exceeds all global safety standards without compromising on vehicle design or refinement."
While the Jaguar XE is expected to offer a range of engines, the most highly anticipate will be the all-new 2.0-litre tubodiesel Ingenium engine as well as a petrol engined derivative. Jaguar have emphasised the flexibility of these engines, indicating that the mechanical architecture could underpin Jaguar and Land Rover engines of all sizes with common engine parts.
The Jaguar XE will be designed and engineered in the UK. Production will take place at a new purpose-built production facility at the company's Solihull plant in the West Midlands in the UK.