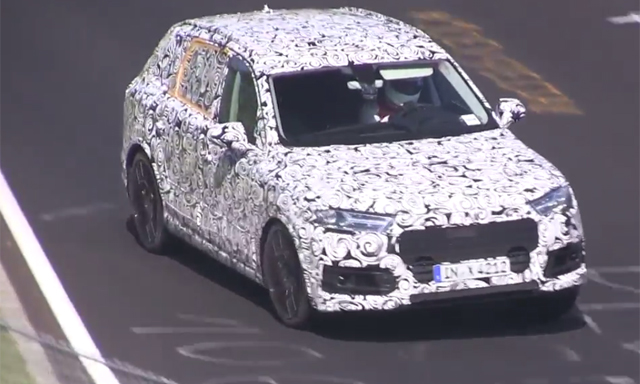 Just after it emerged that an Audi SQ7 was on the cards and set to feature the firm's new electric turbocharged engine, the upcoming model has been spied testing on the Nurburgring!
While it is hard to confirm if this is indeed the SQ7 and not just a simple base next-generation Audi Q7 model, the rather aggressive front bumper and rather low ride height for an off-roadster, suggests that it is indeed a high-performance model.
[youtube]https://www.youtube.com/watch?v=fyeV_s9w7pg#t=70[/youtube]
Whenever the SQ7 is revealed, it will arrive as part of the next-generation Q7 range and will be the second diesel powered S model offered by Audi alongside the SQ5 SUV.
In the RS5 TDI Concept, this new engine manages to deliver around 380 hp but most impressively, a mega 553 lb-ft of torque. Helping to ensure that power is available as soon as the throttle pedal is depressed, the RS5 TDI Concept utilises an advanced electric compressor to eliminate all turbo lag by ensuring that the smaller of the two turbochargers, is always spolled up.
Beyond the engine, some other key changes will be apparent. Most importantly, weight reductions will be a key aim for Audi with the next-generation Q7 pinned to roll on the new MLB Evo platform. It is suggested that this new platform could help contribute to a 363 kg weight reduction from the current car.