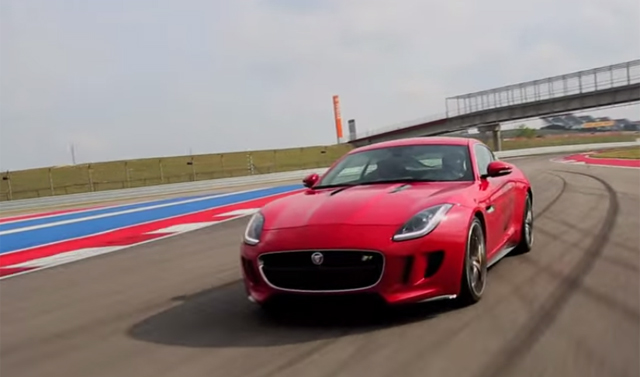 As with many automakers, Jaguar also has a special driver training program dubbed the Jaguar Performance Driving Academy. These driving academies always attract a wide range of people wanting to test out the latest and greatest sports cars and supercars.
[youtube]https://www.youtube.com/watch?v=4IrfpgP69so#t=167[/youtube]
Most recently, the Jaguar Performance Driving Academy headed to the Circuit of the Americas with the potent Jaguar F-Type R Coupe. Among the participants was actor Sebastian Stan as well as actress Mena Suvari.
As the current range-topping F-Type, the R Coupe is quite exceptional. It features a supercharged 5.0-liter V8 engine producing an insane 550 hp. Consequently, Jaguar promises the F-Type R Coupé can sprint from 0-100 km/h in just 4.2 seconds, 80-120 km/h in a mere 2.4 seconds and an electronically limited top speed of 300 km/h.
The supercharged engine powering the Jaguar F-Type R Coupé not only produces immense power, it also has a few nice features up its sleeve including spray-guided direction injection as well as dual independent variable cam timing. The lightweight aluminium block has then been stiffened with cast-iron liners and cross-bolted main bearing caps. Just like all other F-Type Coupé and Convertible variants, the engine is mated to a ZF Quickshift eight-speed transmission driving the rear wheels.