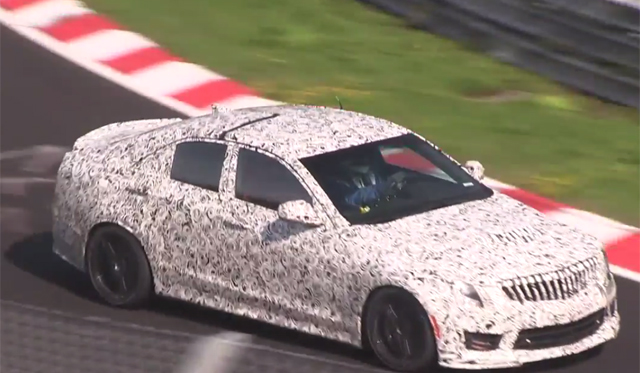 The upcoming 2016 Cadillac ATS-V coupe was recently spied testing at the Nurburgring. Now its sedan sibling has also been spied at the track and based on the following video, it is set to be quite the performance machine.
Throughout the 2 and a half minute video, the Cadillac ATS-V can be seen tackling corners very hard and even getting air a few times. Additionally, it comes up behind the new BMW M4 at one scene which is fitting considering the ATS-V coupe and sedan variants will rival the new BMW M3 and M4.
[youtube]https://www.youtube.com/watch?v=901zz7T8p4s[/youtube]
According to Motor Trend, the car will receive a twin-turbocharged V6 engine displacing 3.6-liters from Cadillac and delivering a total of 425 hp. Mated to this engine is expected to be a seven-speed manual transmission available as an option. Alternatively, an eight-speed automatic transmission is expected. Further down the road, a brand new dual-clutch transmission could arrive early next year.
From a visual standpoint, the 2016 Cadillac ATS-V Coupe will have quite an aggressive appearance but won't be as in-your-face as the impending new CTS-V. It features similar albeit smaller vertical slats on the front grille as well as flared arches and a new front bumper. Hiding beneath the black wheels is also an upgraded braking system.
Further down the road, there's a suggestion that Cadillac is planning an even more potent model set to be dubbed the Cadillac ATS-V+. This even more performance biased variant is set to receive a powerful V8 engine and could hit the market by around 2017. While the launch of such a car is so far away, it is speculated that it could receive the 625 hp 6.2-liter supercharged LT4 V8 engine from the recently launched 2015 Corvette Z06.