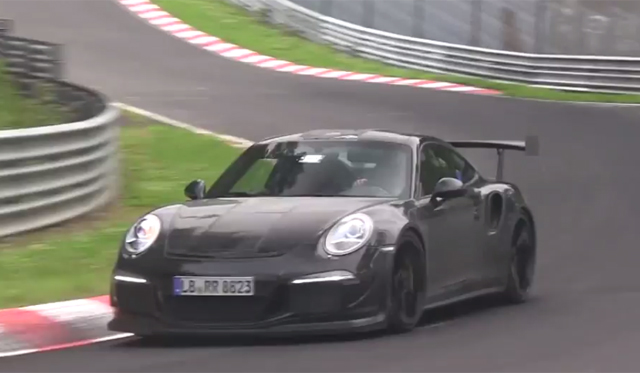 Just after the 2015 Porsche 911 GT3 RS was filmed testing hard at the Nurburgring for the very first time, two further prototypes have been filmed hitting the famous German racetrack and testing facility.
Under the hood, the latest Porsche 911 GT3 RS will see a slight power increase from the standard car pushing the total figure towards the 500 hp mark. It will also feature different gear rations and should be able to sprint to 100 km/h in around 3.5 seconds. Understandably, top speed will be slightly decreased due to the increase downforce.
Interestingly, this most recent prototype, as well as others previously spotted, features similar side air intakes to Porsche's turbocharged 911s. There is quite a bit of conjecture as to why they are present but some reports suggest the 2015 Porsche 911 GT3 RS will be turbocharged.
[youtube]https://www.youtube.com/watch?v=ux6a9yyBCWI[/youtube]
While that sounds quite reasonable considering the troubles suffered by the regular GT3's naturally aspirated engine, the following prototype certainly doesn't sound like it features forced induction. As a result, it is quite likely that the new 911 Turbo inspired air intakes are simply being used for extra cooling.
Visually, the prototype you see clearly features a wider track than the standard Porsche 991-generation 911 GT3 and features a massive rear wing. However, it is unlikely that the exact rear wing you see on this prototype will make it onto the production car. Additionally, this 2015 Porsche 911 GT3 RS prototype is sporting a larger front splitter. With these aerodynamic improvements, downforce of the new GT3 RS could be up be around 50 per cent when compared to the 'regular' 991 GT3.