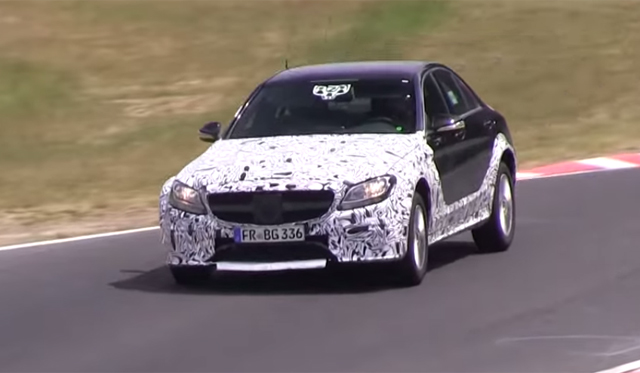 Not long after the next-generation 2017 Mercedes-Benz E63 AMG was spied, a non-AMG variant of the upcoming E-Class has been filmed testing at the Nurburgring.
While the car is wearing the body of the new C-Class, its extended wheelbase and wider track point towards it actually being the new E-Class.
[youtube]https://www.youtube.com/watch?v=-T9HOc5vZdM[/youtube]
Despite the next-generation C-Class still being a few years away from a reveal, we know quite a bit about it. First off and arguably most exciting is the fact that it will resurrect inline six-cylinder engines for Mercedes-Benz. Mercedes-Benz is no stranger to inline-sixes with them developing them until the late 1990s. Companies like Jaguar, Toyota and Aston Martin have also created them in the past before dropping them. However, it is believed that Mercedes-Benz is set to bring them back as it wants to improve the refinement of its smaller-capacity and more fuel-efficient range of engines.
Australian publication Motoring suggests that the family of inline-six engines will range from 2.2-litres to 3.5-litres. The new engines reportedly share a host of components from the new four-cylinder engine available on A-Class models and the CLA and GLA SUV.
Elsewhere, we know that the 2017 Mercedes-Benz E63 AMG will ditch the current 5.5-litre biturbo V8 engine and utilise the firm's new 4.0-litre biturbo V8 set to debut on the upcoming Mercedes-AMG GT sports car. In the AMG GT, it will be tuned to deliver at least 503 hp and when fitted into the next-gen C 63 AMG should deliver in the region of 450-480 hp. By comparison, it is likely that the 2017 Mercedes-Benz E63 AMG will receive upwards of 550 hp.