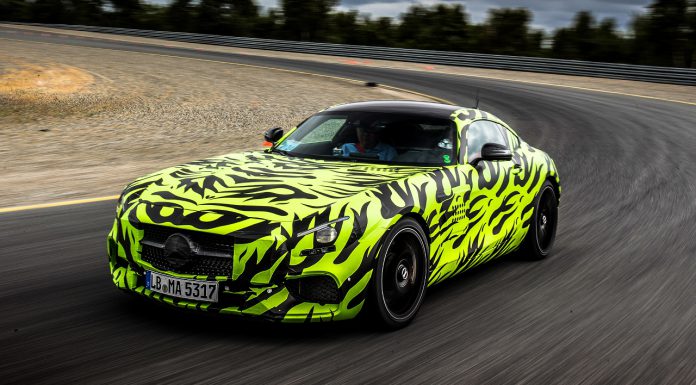 The long-awaited 2015 Mercedes-AMG GT could be heading closer to being revealed with speculation suggesting that it will be revealed online on September 9th. Following on from this launch, the car will be unveiled at the Paris Motor Show 2014 in October.
There will be two variants of the Mercedes-AMG GT offered. First off is the entry-level 2015 Mercedes-AMG GT. It features a 4.0-litre biturbo V8 engine delivering 455 hp. The range-topping model is then the Mercedes-AMG GT-S with it featuring the previously confirmed 503 hp engine. Due to the presence of two different models at launch, the new Mercedes-AMG GT will be able to properly compete with the Porsche 911 range as well as the Jaguar F-Type line-up.
Alongside confirmation of the two different variations, we now know for sure that the Mercedes-AMG GT features conventional doors rather than the gullwing ones featured on the SLS AMG which this car effectively replaces even though it does aim to supersede the SLS.
Sticky Michelin Pilot Super Sport tyres will come standard on both models with the entry-level model to feature a conventional limited-slip differential and 19-inch wheels at all four corners and rubber measuring 255/35 at the front and 295/30 at the rear. By comparison, the 2015 Mercedes-AMG GT-S will include a more advanced E-diff as well as wider 265/35 tyres at the front and 20-inch wheels with 295/30 Pilot Super Sports at the rear.
[Via Mercedes-Benz Passion]