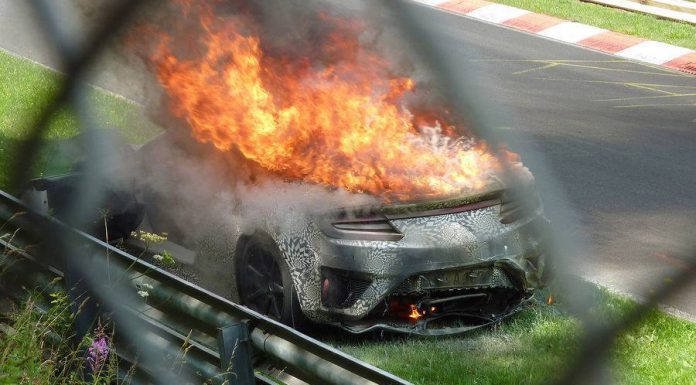 Just yesterday, a prototype for the 2015 Honda NSX was filmed hitting the Nurburgring for the very first time. Unfortunately, the rigorous testing regime was too much for the prototype to handle with it bursting into flames and burning to a crisp at the famous German racetrack.
It remains unclear what sparked the fire but it inevitably started in the engine bay and quickly spread into the cabin. Thankfully, the two engineers inside were able to escape uninjured. By the time fire crews managed to douse the flames, the fire had destroyed the car entirely apart from the front end.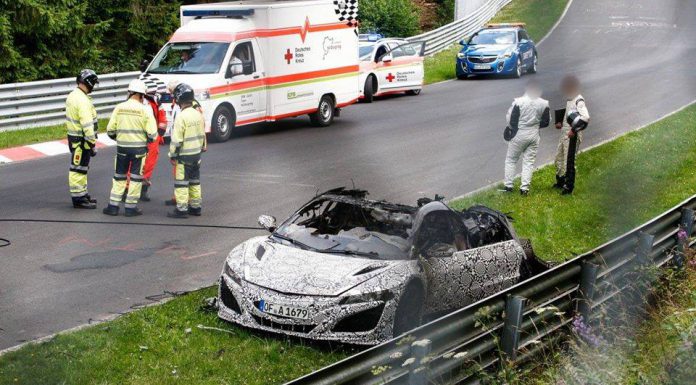 While it may look bad to have a prototype burst into flames like this, potential buyers shouldn't be all that concerned. After all, the purpose of tests like these is to determine weak points in the car and to improve them before the car reaches production.
The final details about the engine have yet to be confirmed, but what has been confirmed is that the 2015 Honda NSX will utilise a twin-turbocharged V6 engine displacing either 3.5-liters or 3.7-liters. Unsurprisingly, this new engine will be completely unique to the upcoming NSX and should deliver around 400 hp.
Joining the twin-turbocharged V6 engine will be three electric motors. In this system, one electric motor is mounted at each front wheel while the third is integrated into the engine and helps drive the rear wheels. These motors are powered by a lithium-ion battery recharged thanks to regenerative braking.
Mated to the awesome powertrain will be a dual-clutch transmission promising to have "more than six gears". At this stage, it is most likely the 2015 Honda NSX will receive a seven-speed gearbox but an eight-speed could also be on the cards.
Production of the new Honda NSX should begin at the start of next year at the firm's production facility in Ohio. When it goes on sale, expect prices to start at around $110,000 in the U.S.