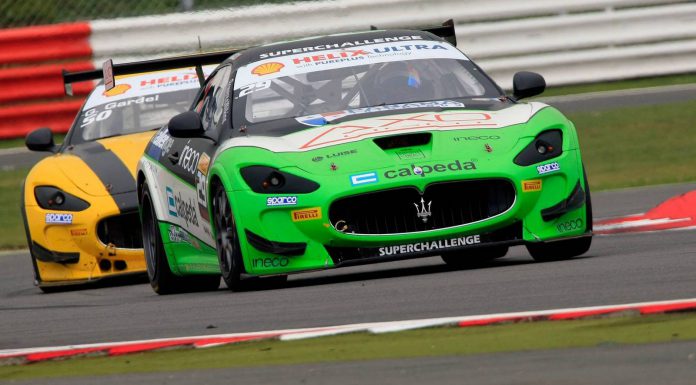 The third round of the Maserati Trofeo World Series took place at the Silverstone circuit in the UK this past weekend. Race one was held on Saturday where Mauro Calamia claimed his fifth win in the Trofeo World Series. Calamia now leads the standings comfortably with 81 points and he has won the Trofeo Europa award which is the first award of the season. Riccardo Ragazzi finished second in this race having led in the first two laps before Calamia snatched back the lead.
Andrea Cecchellero took the final spot on the podium during race one after battling from seventh where he had started. This round had special guests such as singer Max Gazzè who impressed in his inaugural race by finishing sixteenth. Alberto Cola and Giorgio Sernagiotto rounded off the top five finishes by crossing the line in fourth and fifth respectively.
Race two took place on Sunday, a repeat of race one where Calamia claimed another win followed by Riccardo Ragazzi and Gabriele Gardel. Gardel is second on the standings followed by Alberto Cola to sum up the best three. Teams are now preparing for the North American leg which will be at the Virginia International Raceway on August 24th.
Mauro Calamia said:
I am pleased at the win, one that came at my favourite circuit. I steered clear of trouble at the start as my aim was to build up as many championship points as possible and Ragazzi did well to take first place. I realised after a few laps that the car was in excellent shape and that I was quicker than him so I edged past in a curve. I then focused on increasing my lead and closing out the race.