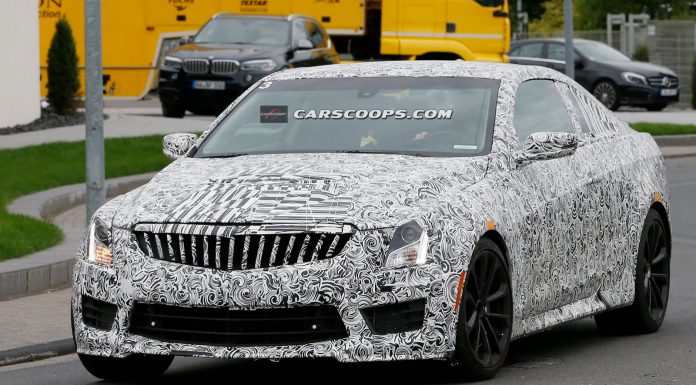 Just after new spyshots emerged of the 2016 Cadillac CTS-V testing at the Nurburgring, the new Cadillac ATS-V Coupe has also been spied testing around the famous German facility!
According to Motor Trend, the car will receive a twin-turbocharged V6 engine displacing 3.6-liters from Cadillac and delivering a total of 425 hp. Mated to this engine is expected to be a seven-speed manual transmission available as an option. Alternatively, an eight-speed automatic transmission is expected. Further down the road, a brand new dual-clutch transmission could arrive early next year.
Thanks to this power output, the new ATS-V Coupe will act as the perfect American rival to the new BMW M4, the upcoming next-generation Mercedes-Benz C 63 AMG Coupe as well as the Audi RS5.
As the spyshot above shows, the 2016 Cadillac ATS-V Coupe will have quite an aggressive appearance but won't be as in-your-face as the impending new CTS-V. It features similar albeit smaller vertical slats on the front grille as well as flared arches and a new front bumper. Hiding beneath the black wheels is also an upgraded braking system.
Further down the road, there's a suggestion that Cadillac is planning an even more potent model set to be dubbed the Cadillac ATS-V+. This even more performance biased variant is set to receive a powerful V8 engine and could hit the market by around 2017. While the launch of such a car is so far away, it is speculated that it could receive the 625 hp 6.2-liter supercharged LT4 V8 engine from the recently launched 2015 Corvette Z06.
[Via Carscoops]